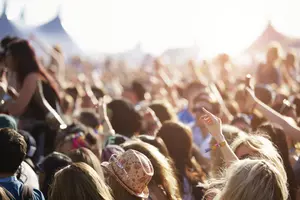 Texas' So What Festival aka South By So What Comes To An End
monkeybusinessimages
After almost 15 years as the punk rock/emo/scene alternative answer to South By Southwest, the Texas So What Music Festival is coming to an end. But is it for good?
We heard that after decades of being the most beloved punk rock summer camp, Warped Tour was finally coming to a cross-country end. Kevin Lyman made the announcement on the Warped Tour website and broke the hearts of millions who have baked under the hot summer sun waiting for their favorite band to come on. Also waiting for their mom to pick them up. Now another favorite music memory for many is coming to an end.
The South By So What Music Festival is a staple in the Dallas community bringing in people from all over the United States and around the world. The festival even celebrated their ten year anniversary in 2014, which many remember fondly because of the rain that poured all day. The bands continued rocking out in the rain, and the crowd loved every minute of it. Third String Productions, the minds behind So What Festival announced the news on Facebook:
Since the news was released, many fans of the festival have been sharing on the Facebook page their favorite So What memories. Founder Mike Ziemer also left a comment about his memories of the festival and what they hope is in store:
On a personal note, I want to say that this festival has been my life for over 10 years now. I lived and breathed this festival 365 days a year. I lost sleep over it, I stressed out to the point of being sick, it consumed my daily life. And to be honest, I wouldn't have it any other way. Trust me in saying this was the last thing we wanted to do and we hope that in choosing to do so, we have something y'all love even more than before. Please don't bring hate and negativity to our page about this, it's not like we just want to cancel it for the fuck of it. There are a lot of moving parts and this is YOUR festival too and we want to do it right and make it everything it should be for all of you.
Sad to see both of these great festivals go.