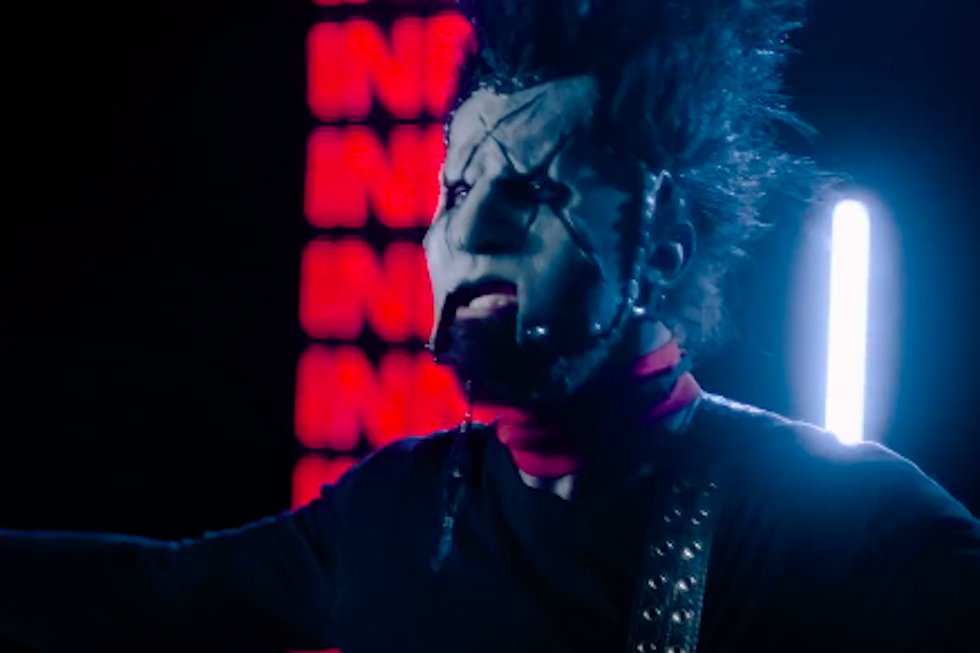 Static-X Vocalist 'Xer0′ Has Been Identified
YouTube - Static-X Official
The Adidas track suit is out of the bag. Thanks to a sneaky photographer, the identity of Static-X singer Xer0 has been revealed as Edsel Dope.
Fans have long speculated that the Dope frontman was behind the Wayne Static mask, but it's Danish zine Metal a Day who get the credit in identifying the vocalist.
Since his debut in Static-X, Xer0 has covered his neck to conceal any identifying features. However, during an Oct. 7 concert in Hamberg, Germany, Xer0's neckerchief slipped down, revealing a tattoo on the right side of his neck.
Compared with an old photo of Edsel Dope, the tattoo seems to be an exact match. A super close up shows a similar gap in the tattoo, looking almost like an cartoonish orbital socket.
We unfortunately can't publish the photo due to copyright issues, but a trip to Metal a Day will show the comparison.
"Wayne was our Bruce Dickinson and our Eddie, said bassist Tony Campos in a recent interview. "I know he would've dug us representing him onstage like this. It also helps keep the focus on remembering Wayne and celebrating the anniversary as opposed to, 'Oh, here's Static-X's new singer.' That's not what we're trying to do."
Just yesterday (Oct. 7) Static-X revealed a U.S. tour with DevilDriver, Dope, Wednesday 13 and Raven Black. Click here for the full list of dates.
Evolution of Slipknot's Terrifying Masks