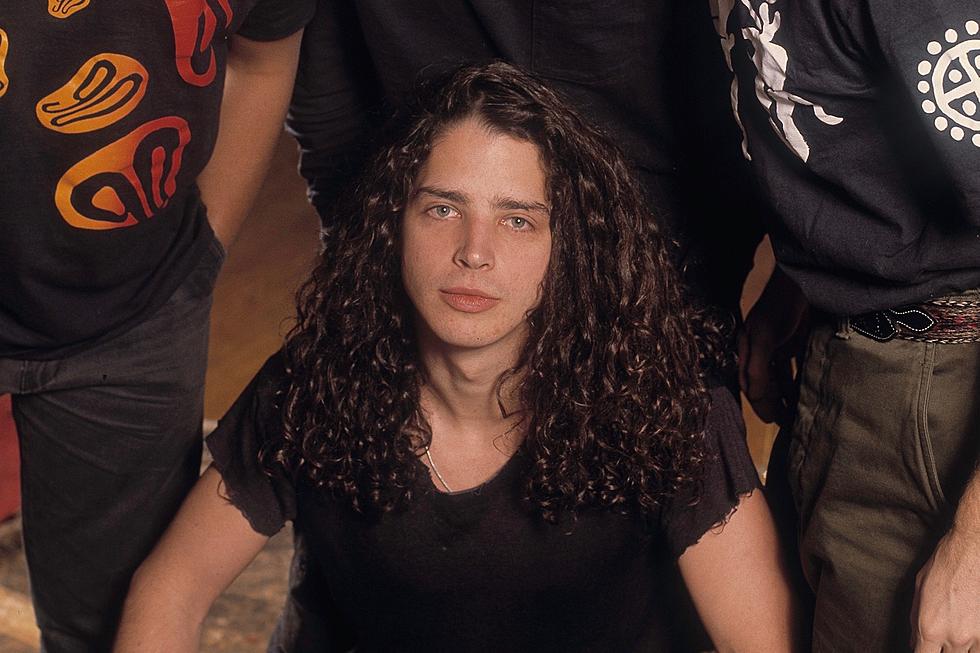 10 Facts You May Not Have Known About Soundgarden's 'Louder Than Love'
Paul Natkin, Getty Images
While Soundgarden may always be known as the '90s band behind "Black Hole Sun" and may always be seen as one of the prominent "grunge" bands from Seattle who wrote about depression and darkness, this wasn't always the case.
Before 1991's Badmotorfinger truly introduced them to the world and 1994's Superunknown catapulted them into the mainstream, Soundgarden had a more fluid sound. Their early works, which included several EPs and their debut full-length Ultramega OK were full of humor and sarcasm.
The band had originally been signed to Sub Pop in 1987 and then the independent SST Records in 1988 for their first LP. After the release of Ultramega OK, they signed to A&M Records for their next project, which rubbed some of their underground elitist fans the wrong way.
Louder Than Love, their sophomore effort, was the bridge between their lighthearted, youthful energy and their eventual more somber attitude. From "Hands All Over" and "Gun" to "Full on Kevin's Mom" and "Big Dumb Sex," the album combined elements of punk and metal with tones of satire and seriousness all at once.
Released on Sept. 5, 1989, the fruitful, though superbly underrated album turns 30 today. Here are 10 facts you may not have known about Soundgarden's Louder Than Love.
1. It had a...different...original title.
Kim Thayil admitted in an interview with Metal Hammer in 1998 that the band had originally wanted to name the record Louder Than Fuck, but knew their label wouldn't allow it.
Chris Cornell, however, considered Louder Than Love to be "more of a thought-provoking title. It's sort of making fun of heavy metal bravado. Metal bands would say Louder Than Thunder or something. So Louder Than Love, what is louder than love?" he explained to Sounds in '89.
2. It was their last album with Hiro Yamamoto.
Yamamoto was Soundgarden's original bassist and one of the founding members. During the recording of Louder Than Love, Cornell recalls Yamamoto isolating himself from the rest of the band. "He got tired of being a musician. He didn't like touring. He began contributing to the band less and less," the vocalist told Sounds.
Eventually, the bassist quit Soundgarden and went back to school. "It seems an odd time to quit. We're doing real well," Cornell added. Ben Shepherd replaced Yamamoto in 1990 and remains Soundgarden's bassist to this day.
3. "Loud Love" was supposed to be featured in Wayne's World.
Some sources still have "Loud Love" listed on the soundtrack for the iconic 1992 film, claiming that "some versions" feature the song playing in the background when Wayne meets Cassandra.
4. It was their first release to chart.
Louder Than Love peaked at No. 108 on the Billboard 200 in 1990, making it the first album by a "grunge" band to land on the chart. This allowed the band to get more radio exposure and thus grow their fanbase.
5. "Big Dumb Sex" was a sarcastic nod to hair metal.
Soundgarden and its '90s-alternative rock counterparts gained momentum just as hair metal was dying a rapid death. Cornell and company always had a bit of an aversion toward the flashiness, the glam and the sex-filled lyrics of the era. "Big Dumb Sex" was a mockery of it all.
The repetition of the word "fuck" actually warranted the entire album a "Parental Advisory" warning sticker on the front.
6. ...and Guns N' Roses later covered it.
Guns N' Roses were apparently fans of the track, as they chose to include their own version of it on 1993's The Spaghetti Incident?, which Axl Rose referred to as their "punk covers" album.
Ironically enough, Guns N' Roses actually fit into the mold of bands Cornell wasn't impressed by, but Soundgarden opened for them on part of their Use Your Illusion tour in 1991. He often shrugged at the question of opening for a stadium band.
Metallica's Kirk Hammett attributes Louder Than Love as one of the primary influences for the riff on "Enter Sandman." Acknowledging that the album was released when Soundgarden was still considered more "underground," the guitarist told Toucher & Rich that he felt inspired after hearing it and "out came that riff."
8. "Hands All Over" the environment.
The single "Hands All Over" touches on the human destruction of the environment. "Not strictly environmental, but mostly," Cornell told The Rocket in 1990. "It's basically about how we humans tend to screw up everything that's good enough as it is...Or everything that we're attracted to, we love to go and defile it."
"Hands all over the inland forest / In a striking motion trees fall down like dying soldiers"
9. Songs that almost made it.
Two outtakes from the album, "Fresh Deadly Roses" and "Heretic," were left off the final album. The former was included as a B-side on the single for "Loud Love" and the latter on "Hands All Over." Both songs were also included on the Loudest Love EP in 1990.
10. As the album cycle ended, so did another life.
Cornell's roommate Andrew Wood, also known as the frontman of the rock group Mother Love Bone, died of a heroin overdose the day Soundgarden returned from touring in support of Louder Than Love. When the group went back on tour for a European leg a few weeks later, Cornell started working on tribute songs to Wood, which would eventually end up on the solo album with his side project, Temple of the Dog.
Soundgarden Albums Ranked