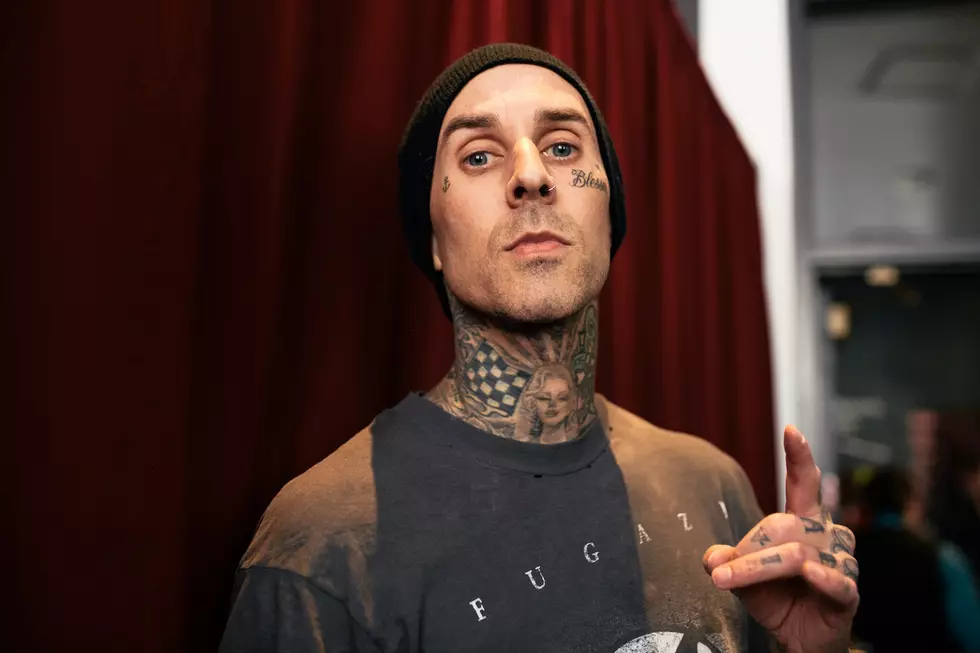 Blink-182's Travis Barker Lands at No. 1 on the Billboard Rock Songwriters Chart
Emma McIntyre, Getty Images
Blink-182 drummer Travis Barker has mounted an impressive feat this week. The musician hit the No. 1. spot on Billboard's Rock Songwriters chart thanks to a wealth of composition credits carrying his name.
In fact, 15 total songs featuring Barker's songwriting prowess appear on Billboard's current Hot Rock Songs tabulation. That number is what propels the drummer to No. 1 on the associated Rock Songwriters roundup. Not to mention, it's the first time the musician has achieved such an accolade.
As reported by Billboard, Barker's current bandmates in Blink, Mark Hoppus and Matt Skiba, tie for No. 2 on the Rock Songwriters chart. That's due to their 14 songwriting credits apiece on Hot Rock Songs.
The influx of Blink-related tunes on the current Hot Rock Songs survey is tied to last month's release of the band's latest album, Nine. On Hot Rock Songs' listing for the week ending Oct. 5, Blink-182 claim 14 total spots among the 50 entries. However, it's Barker's collaboration with Machine Gun Kelly and Yungblud that garners his highest placed Hot Rock Songs number. The team-up "I Think I'm Okay" slots in at No. 3.
Directly below, see a list of all of Barker's current positions on the week's Billboard Hot Rock Songs list by rank, artist billing and song title (along with the tune's songwriters in addition to Barker).
Current Barker Songwriting Credits on Latest Hot Rock Songs Chart:
No. 3 – Machine Gun Kelly x Yungblud x Travis Barker, "I Think I'm Okay" (Zakk Cervini, Machine Gun Kelly, Dominic Harrison, Nick Long, SlimXX, BazeXX, WYNNE, India Rain Quateman)
No. 4 – Blink-182, "I Really Wish I Hated You" (Mark Hoppus, John Feldmann, Happy P, Ali Tamposi, Andrew Watt, Matt Skiba)
No. 7 – Blink-182, "Darkside" (Hoppus, Feldmann, Skiba)
No. 11 – Blink-182, "Blame It on My Youth" (Hoppus, Sam Hollander, Tim Pagnotta, Skiba, Matt Malpass)
No. 13 – Blink-182, "Pin the Grenade" (Hoppus, Feldmann, Joe Khajadourian, Jake Torrey, Alex Schwartz)
No. 15 – Blink-182, "The First Time" (Hoppus, Feldmann, Jim Lavigne, Skiba, John Mitchell)
No. 26 – Blink-182, "Heaven" (Hoppus, Feldmann, Skiba, Chris Greatti)
No. 28 – Blink-182, "Black Rain" (Hoppus, Feldmann, Skiba)
No. 29 – Blink-182, "No Heart to Speak Of" (Hoppus, Feldmann, Skiba, Malpass)
No. 32 – Blink-182, "Generational Divide" (Hoppus, Feldmann, Ben Berger, Ryan McMahon, Ryan Rabin, Skiba)
No. 33 – Blink-182, "Run Away" (Hoppus, Feldmann, Skiba, Mitchell)
No. 36 – Blink-182, "On Some Emo Shit" (Hoppus, Skiba)
No. 37 – Blink-182, "Hungover You" (Hoppus, Feldmann, Lavigne, Skiba)
No. 40 – Blink-182, "Remember to Forget Me" (Hoppus, Feldmann, JP Clark, JRM, Skiba)
No. 42 – Blink-182, "Ransom" (Hoppus, Feldmann, Skiba)