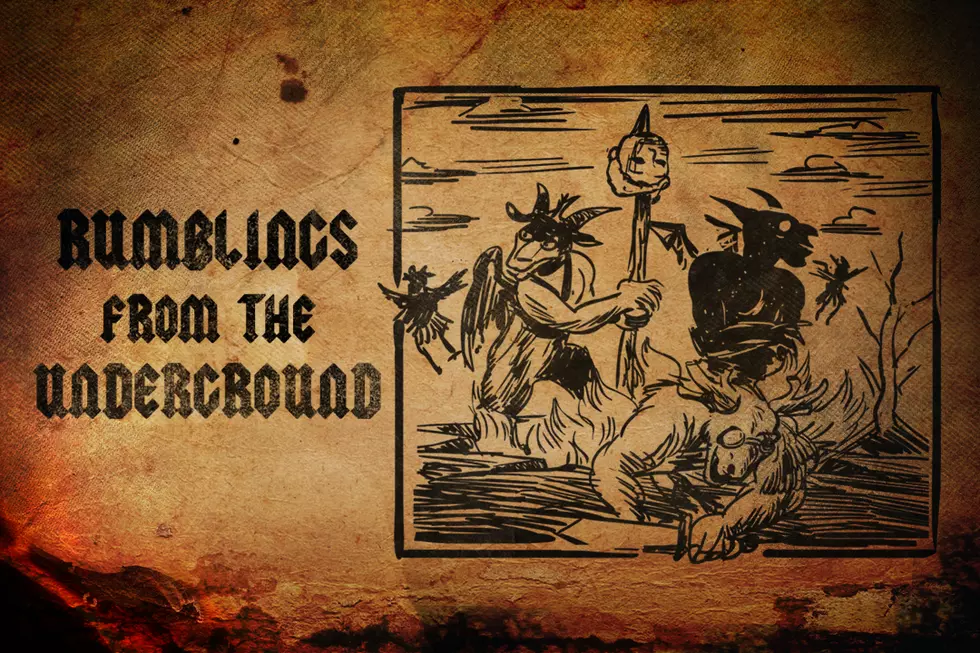 Rumblings From the Underground: Lago + Calm Hatchery (Song Premiere), Deathspell Omega, Bolzer + More
Loudwire
As the year winds down, the underground cares not for fancy accolades and awards. Accessibility is not on the radar and we're back again this month to give a nod to some more of the best stuff that won't see much time in the sun. We're talking about the riffing might of Bolzer, Deathspell Omega's brilliant return after four years of silence, a demo from the bleak Recitations, Siaskel's preservation of a now defunct language and the heroic traditional doom efforts of Spiritus Mortis!
Before we review the latest record from each of those bands, we've got an exclusive premiere of a 7-inch split from Arizona's Lago and Poland's Calm Hatchery. Both bands play a drill-to-the-core-of-the-earth type of death metal, feverishly heaving away chunks of earth with Suffocation-like breakdowns (the highest praise a band of this ilk can earn) and more fluid moments remnant of Corpus Mortale.
---
Album Reviews
---
Bolzer, 'Hero'
After a pair of impressive EPs, the duo behind Bolzer finally delivered their first full length. Hero is a bit of a departure from those aforementioned releases, the biggest difference being the take 'em or leave 'em deep clean vocals that have caused a rift amongst their fans. Any fan of '90s Bathory shouldn't take arms with this new facet, as they're delivered in a lower register with a strikingly unique sound.
Their riffage here is among their best, utilizing just one guitar to flesh out the entirety of their blackened death fury. "Phosphor" is arguably the best track with rollicking drums and truly thunderous toms maintaining the energy even when the guitar veers off the rhythmic front in favor of their signature lead style and selective, slightly atonal breaks.
---
Deathspell Omega, 'The Synarchy of Molten Bones'
Finally, France's mysterious black metal legion Deathspell Omega have returned with new material! It's been four years since the Drought EP and they're back with 30 minutes of Hell-ordained dissonant torment spread across just four tracks that make up The Synarchy of Molten Bones.
The group have been one of the most influential acts in the new millennium, pioneering the now widely adopted style. This album will do nothing to convert those who were not already bludgeoned by previous efforts, but offers exactly what their existing fans crave. Per usual, the belt-fed drumming is concussive, somehow serving as the anchor to Deathspell's warped atonality.
---
Recitations, 'The First of the Listeners' (Demo)
This demo is so good these guys should just split up now and be enshrined as a pure cult favorite. If they don't heed this terrible piece of advice, that's fine too. The four-track The First of the Listeners is a maddening descent into moist, sun-starved caves where every drip and drop resonates within its uncharted hallows.
The title track starts off heavily entrenched in an Icelandic black metal style, but Recitations quickly carve their own niche on the back half of the song which falls apart in every direction, completely dismantling their sound. "Godspeak Halilu Lija" represents the furthest deviation from their blackened tyranny, favoring repetition and a bleak atmosphere, hopefully indicating where their sound will eventually develop.
---
Siaskel, 'Haruwen Airen'
Siaskel are a group that walk the tightrope between raw, pummeling old school death metal and the cavernous Incantation worship (not that Incantation aren't old school themselves) that has reigned over the last decade of the genre. Never really sticking to one side or another, it's a quality not many bands have and makes Haruwen Airen such an entertaining listen.
Chileans know how to muck up their metal better than anyone on the planet, acting wholly and proudly ignorant to anything recorded after 1994. The band uses a mix of Spanish and 'Ona,' a language currently with no known living native speakers. When a band puts this much effort into their music (see Ea and Magma for more obscure language uses), the result is completely honest, thoughtful and, in this case, a ripping slab of death metal.
---
Spiritus Mortis, 'The Year Is One'
This month's column has been black metal intensive, so allow Spiritus Mortis to offer you some reprieve from ceaseless tremolo picking and dissonance with The Year Is One. Strong-armed riffs crawl like a dying man dragging half his remaining carcass through the desert with desperate ambitions of finding salvation, just look to "I Am a Name on Your Funeral Wreath" and "She Died a Virgin" for proof.
Lush leads accompany the rhythmic-first approach at times, while more uptempo groove-riders like "Robe of Ectoplasm" and "Jesus Christ, Son of Satan" inject a bit of fun amidst those other parched tracks.
---
Top 25 Extreme Metal Albums of All Time
10 Greatest Grindcore Bands