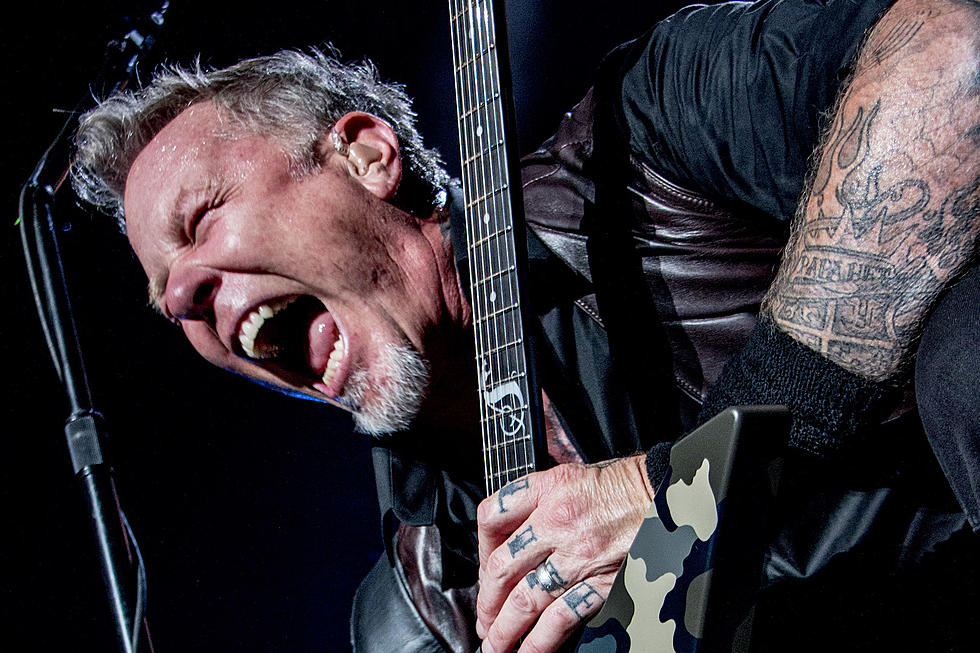 Metallica Music Helps Woman Fend Off Potential Cougar Attack
Jeff Yeager/Metallica/Getty Images
The mighty Metallica's music has been used in quite a few ways over the years, but this is the first time we've heard of it being used to fend off an animal attack.
Vancouver resident Dee Gallant told Kelowna Now that while she was recently out on a walk with her husky, she noticed a cougar stalking her on the path they were walking. As seen in the video footage at the bottom of the post, Gallant kept the cougar in her sights, letting it know she was aware of its presence, but attempts to scare off the animal with her own voice didn't work. Then she came up with another idea.
With her phone on her, she decided to try something a little louder, searching through her music library and finding Metallica's "Don't Tread on Me." The menacing sounds of the thrash metal vets did the trick, sending the cougar scurrying off.
"I looked over to the right and there it was, I couldn't make it out at first and thought 'oh that is a strange color, that's not a tree,'" she recalled, before realizing what it was. "It was crouched down, doing that kind of prowl, predator walk that they do — that was when I waved my arms and yelled 'hey, you stop!' and it did."
Gallant said the animal initially froze upon realizing it had been spotted, then realized the animal started inching toward her. That's when she went to her music reserves with Metallica. "I thought it was the noisiest thing on my phone that would probably scare it, that was also the messaged I wanted to convey to the cougar," she joked. "As soon as the first notes blared out it ran into the bush. After that, I was a little more scared because I couldn't see it anymore and once it turned to run out I realized it was a lot bigger than I had thought, about three meters long from nose to tail."
Speaking to Kelowna Now after the incident, she stated, "I would love to contact them someday and tell James Hetfield that he saved my life."
If you would like to see Metallica's music in its normal form of entertainment, you can get ticketing info for their next run of North American tour dates here.
Every Metallica Song Ranked