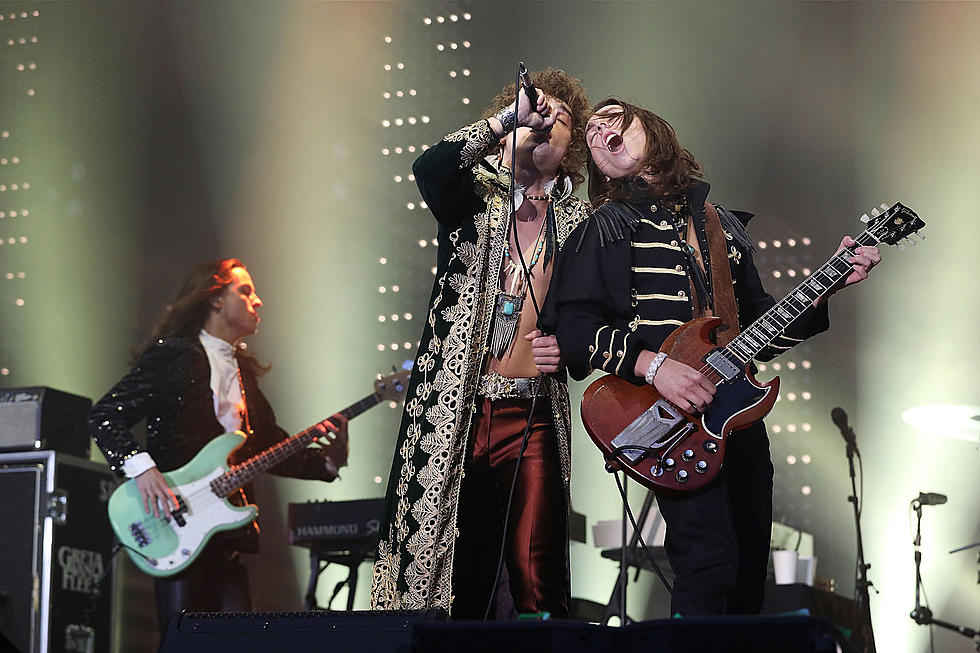 Greta Van Fleet 'Working on Something Quite Different' for Second Album
Taylor Hill, Getty Images
Throwback rockers Greta Van Fleet are working on something "quite different" for their follow-up to last year's Anthem of the Peaceful Army, the breakout album from the Michigan quartet. But they can't reveal much more than that, going by bassist Sam Kiszka and guitarist Jake Kiszka's recent reactions.
That's as much as the musician brothers told the NME when they showed up at Madrid's Mad Cool Festival for their performance this past weekend (July 13). Watch the interview down toward the bottom of this post.
"We're working on one, yeah," a bespectacled Jake said when asked about the forthcoming effort. However, he quickly put a lid on it, joking, "That's about it. We're hoping to have it out by the end of this year, and it is an album."
Alas, he continued, "There's a little evolution, I suppose, with everything. We're working on something quite different, I suppose. It's interesting because we never know exactly what an album's gonna look like; it can only be so premeditated. But, as it sort of unfolds now, it's sort of an example of where we are musically right now. So, it's definitely much different than Anthem of the Peaceful Army would have been."
Sam concurred with his rocker sibling. "I think it's really the next step in the evolution of what we want to do," he offered. The bass player indicated that Greta Van Fleet are "incorporating more sounds, more tones, more styles of music, perhaps and kind of taking a step in the cinematic direction" with their new music.
Greta Van Fleet Speak With NME
55 Best Metal Covers of Classic Rock Hits