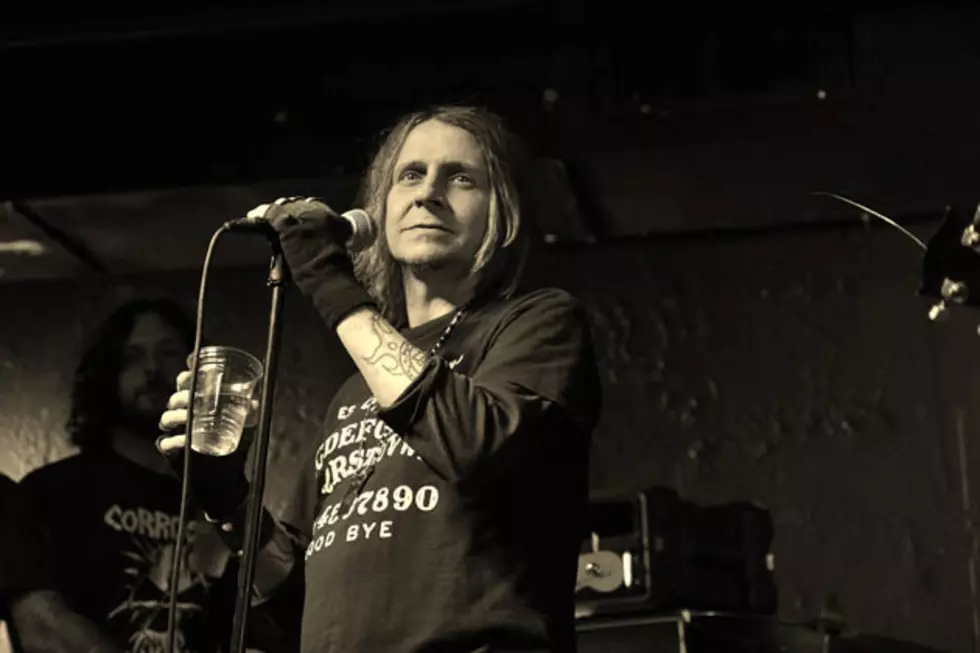 Eyehategod's Mike IX Williams Battles Through Complications While Awaiting Liver Transplant
Liz Ramanand, Loudwire
A couple weeks back a crowdfunding campaign was launched to help Eyehategod frontman Mike IX Williams with medical expenses. The singer needs a liver transplant. Metal fans have been very generous, raising more than $60,000 so far, with the goal now increased to $150,000.
The latest update from Michelle Maher-Williams gives more details on Williams' current condition, revealing he had to undergo a heart procedure before the liver transplant can take place:
Hi everyone! I just wanted to update you on Michael's condition. A few weeks ago, they discovered the reason that he kept bleeding internally was due to a bleeding ulcer combined with a very low clotting factor. He underwent endoscopic surgery where they put 3 clips on the ulcer to stop the bleeding. We were informed that it's in a very fragile area prone to bleed again. Which, of course, it did. Several times. Eventually, they went in and cauterized the ulcer, hoping to put an end to the bleeding. They also worked on raising his clotting factors with medications to help do so. During this time, the results of Mike's stress test came back positive for heart damage. His liver failure has taken a toll on his heart and he needed to undergo a procedure to repair it. He was told that he would have to be put on blood thinners and, when combined with his already low clotting ability, there was a very high risk that he could bleed out and die on the table. If he didn't have the procedure, he'd be removed from the transplant list. There was no other choice. He had to do it.
Thankfully, there were no complications, and Michael pulled through. He has to remain on blood thinners until December 8th. Once they are out of his system, it's transplant time!
Thanks so much to all of you for helping him get this far. I dread to think where he would be without it. His deductible is paid for, as is a portion of his past due hospital bills. But we still need to cover the actual surgery, as well as this current monster of a hospital stay and his aftercare, which involves a ton of expenses. Please continue to send positive thoughts, donate and share, share, share!
On Saturday, Williams posted a message thanking everyone for their support. He says, "What a perfect time to get this outpouring of LOVE and caring for my situation; its overwhelming to say the least! Thank you to my friends, family & fans for your sweet and kind donations and show of massive support! I really care about you people more than you'll ever imagine and appreciate all you've done for me!"
Williams also posted, "I can't wait to get this all over with and behind me and get back out on the road, making records and writing etc.. I cannot live without these things in my life! Peace, anarchy & hair grease! I LOVE YOU humans! EHG fans all over the world are the most loyal and dedicated in all the universe."
Some benefit shows have been booked for next Feb. 3-5 in New Orleans featuring bands such as Eyehategod, Crowbar and Goatwhore. It's not known who would front Eyehategod if Williams isn't able to perform, but recently both Philip Anselmo and Randy Blythe have filled in for Williams.