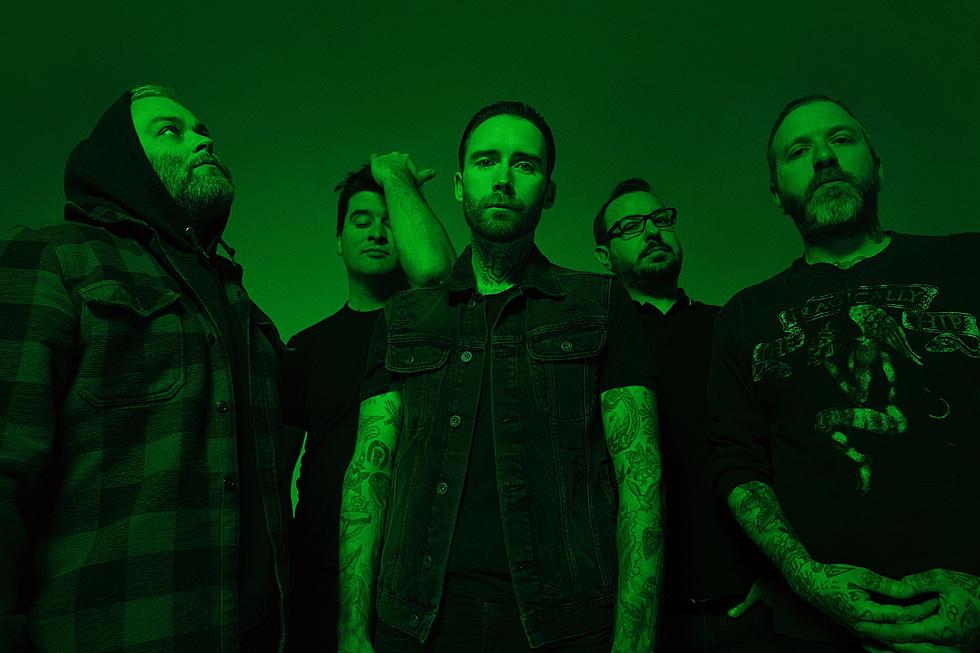 Alexisonfire Release First New Song in a Decade 'Familiar Drugs' [Interview]
Photo credit: Vanessa Heins
The wait is finally over: Alexisonfire have released their first new song in nearly a decade, "Familiar Drugs."
This is the first new music from the band following the announcement of their breakup in 2011 after 10 years together. They have since reunited and have been intermittently playing shows together since 2015, but fans have been anxiously awaiting new material.
In conjunction with the new track, the band have announced select headlining shows starting in June (see below), a special vinyl pressing of the single, which is available to pre-order today, and a live performance from Strombo in Toronto where they'll be playing the new song for the first time that will be streaming on the band's Facebook page starting at 8PM ET tonight (Feb. 15).
We spoke with vocalist George Pettit about the new song, how it started from a riff that was lost for nearly a decade and what its release means for the band's future. Check out "Familiar Drugs" and the interview below:
I have to ask the obvious question. What does this song mean in terms of the band's current status?
Honestly, we're working, but I'd say we're more of a light duty band so far. We all have our own lives outside of the band that require a certain amount of attention, right? So it's been really difficult to align schedules to get any sort of meaningful amount of time in the rehearsal space. It's just a day here, a day there. Now, mind you, when we get into the rehearsal space those are very productive times.
We're writing a lot. But as far as what's next, I can tell you right now, I don't think this will be the last release of Alexisonfire. But, I don't know what the next release is going to be—if it's going to be a single or it's going to be an EP or an album.
I think we all like the idea of making an album, but it would require a month of us rehearsing straight and then probably a month in the studio then two month—it's just an enormous amount of time for us right now. As of right now, this is what's happening: We've got a new single coming out with the possibility of more to come.
The group has played some shows since reuniting in 2015. What made this the right time to push forward with new music again, and who started the conversations to get the ball rolling?
Well, I mean obviously the band [broke] up and we spent a few years away. Dallas was  really the first one to kind of start sniffing around, and we'd all seen each other outside of playing music. We were still in touch. And then we started entertaining the idea of possibly playing some shows. Then those shows happen and we're on the road and we're accepting festival offers.
I remember sending the email out and saying, 'Hey, we've been kind of casually hooking up for a little while (laughs.) and I'm starting to develop some feelings a little bit and I kinda want to keep doing this—in the same way we have been doing it in just accepting odd shows here and there.' But I really did feel like in order to keep to doing that we had to do something more than nothing. We need to offer something up. And I said that, 'Maybe we should consider trying to write something and if something comes out of that then great and if not that's fine, too.'
And then also there was a lot of emphasis on not really upsetting anyone's current life. We all have a lot of irons in the fire right now, and the last thing we want to do is give up opportunities or things in our own lives for Alexis.
So that's just where we are: When we can we write and it's also kind of casual and it's also kind of serious. It's nice; There's no pressure right now.
The new song "Familiar Drugs" warns of falling into familiar patterns in life, but I know it comes from a personal place for you. You've chosen to leave it open ended for the listener to apply it to whatever they can't quit in real life. What does it mean to you to get these feelings off your chest and share them and do you see it helping others identify an unhealthy situation?
I don't know if it's necessarily that. "Familiar Drugs" in my life is general lethargy. It's just laziness and being at a point where I can do something to better myself. I tend to just fall back and rest on my laurels and just feel comfortable in doing nothing. I look at people like Dallas and Wade and they're unbelievably prolific artists. They are disciplined, and I'm just not, I'm just not disciplined. In some ways, that was the impetus for writing "Familiar Drugs."
I also purposely wanted to make it esoteric and make it a little more interpretable. It can be taken in a literal sense—it can be about drug addiction, it can be about being in a bad relationship, it can be about being in a bad job, having mental health issues and being at a point in your life where you know you can make a change yet choosing to not make that change. That's something I've done many times before, and [it's] just confronting that.
How long has the song been in the works? Is it something recent, or has it been around for awhile? And what was the process of getting back to record a song with the guys again?
It took hold on the road. Actually, Dallas came to us with a riff—he had the initial riffs for it. He found them on a cellphone he no longer uses—he found a cellphone in a drawer, he plugged it in and he found a voice note on it with the riff on it.
He was like, 'Hey, I found this. It's a riff from like 10 years ago.Let's see if we can turn this into something.' And then, again, we're not all around all the time. Dallas was in Nashville for awhile, Jordan was on tour with Billy Talent, Wade has been in radio world and he's been scoring movies and video games—we've all been out elsewhere. All of the sudden we accepted these shows and now we're in the same room together and we've got an hour-and-a-half soundcheck everyday and we can start dicking around with songs.
And that's kind of where that song started—we would get the soundcheck out the way and then take about a half an hour and dick around with "Familiar Drugs." And it took a few different forms. It wasn't fully formed from the start at all. We're quite critical and vicious self editors now, so the song was one way and got shifted around a little bit, but it's been fun and interesting. It's really great to watch Dallas, Wade, Steele and Jordan—they're all very disciplined writers.
With the band, you mentioned that all of the members have other projects. Does any of the collective outside influence now seep its way into what you guys are doing or is Alexisonfire pretty much a certain vibe, attitude, sound that comes together specifically when you're together and all other influence gets checked at the door?
I think we, even if it's kind of unconscious, we know what Alexisonfire is and we try not to stray from that. I'd say that Dallas isn't trying to force feed any City and Colour kind of stuff, and the same with Wade. We all have the perspective of what the band is and we'll be the first to self edit ourselves if it isn't.
I remember the first time we wrote "Young Cardinals," it sounded like a Kyuss song. It sounded like a stoner rock song, and it was interesting and fun to make that, but at the end of the day we were just like, 'What are we doing? This isn't an Alexisonfire song. This is a Kyuss song.' Let's just back it up a bit, go back to the drawing board, and we're very good at self-editing.
That way the band doesn't become a punk band. It kind of remains the same, and I think we're all pulling from different directions but it ends up somewhere in the middle.
You mentioned the fact that the band is still writing. What's influencing you these days? Anything from world events or maybe even something more personal got your interest piqued these days?
Lyrically it's difficult. It's hard not to be involved or inspired by current world events. In Canada, in Ontario we have a super conservative premiere of Ontario right now, and that's something that's kind of been bubbling its way up into my writing for a while, but sometimes it's so hard … Like there are times that if I want to write about something and I try so hard to think about it, it just turns to dog shit. It's the fucking worst.
I remember hearing an interview, and I think it was David Crosby and he was like, 'Oh yeah, I'm going to write a song about the Eifel Tower (sings) "It's big and it's tall and it's made of steel" and it's like, "Yeah, it's fucking shit. It's garbage." So the moment I try to find something specifically to write about, it kind of fucks it up. You really have to let the song come to you naturally. It's also easier to not write about something directly. It can be very subtle just trying to write the right lyric.
As much as I'd like to write a song about "Fuck Trump" and all this stuff, I'm also a vicious self-editor, I don't want to write about that. I've done that in the past where I've written something with the intention of sending out a message and the song I don't think is that good. I don't think it made the song any better.
So I'm not sure if any of that is going to make it's way to the surface, if I'm going to tackle any sort of social issues or things that are going on, but just know that in my personal life, yes, I am full of opinions and I'm paying painstaking attention to the world stage right now and everything that's going on. It's hard not to be upset about the fucking horror of conservativism and the upswing in racism.
2009 was the last full-length album. There's been a full decade that has passed since new music. What is the biggest difference you see in your band between where you were then and where the band is at in 2019?
I think we're better musicians in some ways, and I think the band breaking up forced a lot of us to grow up. You just feel more like an adult than back in the day when we came right out of high school, went on the road and didn't come back for 12 years. You get a bit institutionalized by that lifestyle. So stopping doing that kind of forced us all to figure out how to be outside of Alexisonfire, and we figured it out and it's given us all perspective. I think having this time has given us all a bit of perspective.
We have four tour dates coming up as well, and I'm sure there are so many fans that have been missing you guys or maybe haven't even had the opportunity to see you play over the last decade. What does it mean to you to know that the fans are out there, and what ultimately is your expectation of what these shows will mean to them?
To be honest, my expectation is always that the audience is gone. Every time we do something, especially with the breakup and the comeback kind of thing, I am constantly ready for us to come back and people aren't interested anymore. But it just seems like that's never the case. The shows always go really well, and we deliver and we're playing better than we ever have. I think we're also writing better than we ever have. So coming back to play shows, my expectations are mostly that people will have gone away, but if anything, they're still here and it seems like there's more of them.
There are people who within that 10 year period discovered Alexisonfire. There are also those old heads who saw us back in the day in a small club and they're now adults and they want to relive that by coming out to a show. But the shows just keep getting better, and I'm excited to play them.
Before we go, do you have any special message to fans who have been anxiously hoping that there's new music coming? I know there's been quite the buzz since the teases started turning up online.
Just know that this whole teasing and this whole slowly trickling out of information has been absolutely as agonizing for me as it has been for you probably. I just want it out and yes the teases make it fun, but it also drives me a little bonkers sometimes. I hate the anticipation of it, it's giving me an ulcer.
So thank you for your patience, and I really hope you guys enjoy the new songs and hopefully you guys can come out to one of the new shows we're playing.
ALEXISONFIRE 2019 SHOW DATES
June 1 - London, UK @ Alexandra Palace
June 8 - New York, NY @ Terminal 5
June 13 - Los Angeles, CA @ The Wiltern
June 15 - Toronto, ON @ The Budweiser Stage
2019's Most Anticipated Hard Rock + Metal Albums