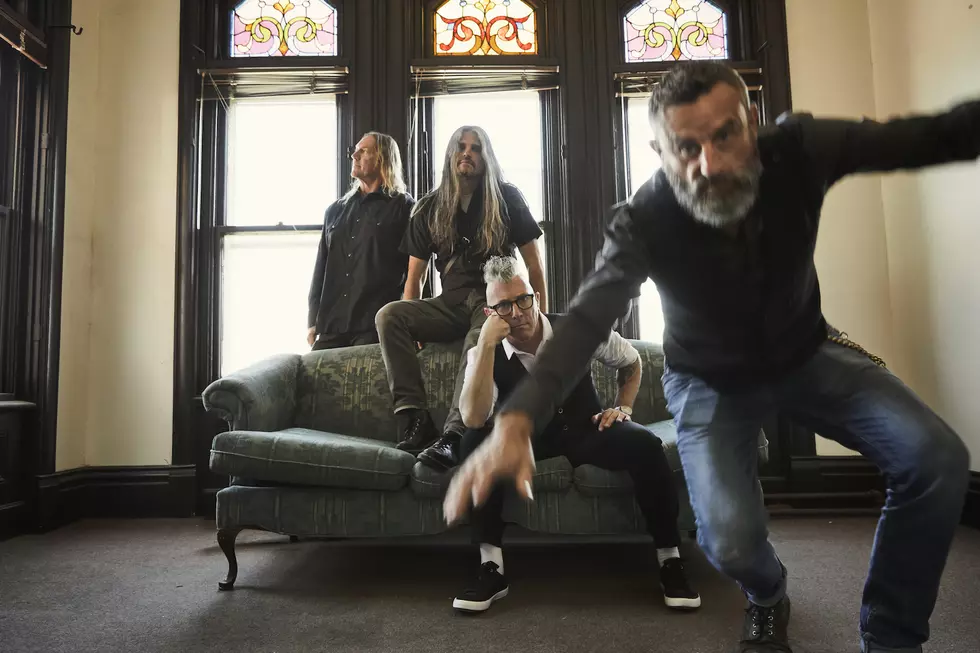 Justin Chancellor: Tool '7empest' Riff 'Probably' From Before I Joined Band
Photo: Travis Shinn
Tool's Fear Inoculum has been out for two weeks, smashing records and giving fans ample time to properly digest the lofty 13-year-in-the-waiting release. "7empest" has gathered a lot praise and in an interview with Visions magazine, bassist Justin Chancellor explained it has a riff that's "probably" from before he even joined the band in 1995.
The group's writing process is meticulous. Chancellor explained in the interview that even if one member thinks a part or song is great, it's not a keeper unless everyone has the same exact sentiments. Laboring for four hours a day, four days a week, they'd each go home and play around with ideas to further understand them.
"When I do that I'm often inspired to write something completely different. Plus there's also a lot of new ideas that come into existence when we three play together," said the bassist [transcription via Reddit].
Not all ideas are new and he confessed that there's older material that found a home on the new record. "Sometimes we also use unused fragments from the past that we wrote ages ago but never found their place," Chancellor went on. "'7empest,'" he singled out, "actually contains a chorus riff that Adam [Jones] carried around for ages. Probably even from before I joined the band."
Tool's bassist, who initially turned down the invite to audition, mentioned that the riff almost worked on their last record. "We tried to use that riff on 10,000 Days but it was only good, not great, so we didn't use it," he confirmed. "In the end, our way of writing music is a long process of experimentation. We enjoy the luxury of taking this very seriously and giving it the time that it needs."
It's only part of "7empest" that was culled from older material. Earlier in the interview, Chancellor spoke about taking his dogs on walks and how rhythms will pop into his head on these outings. "7empest" is the byproduct of one of these walks as he said, "The last real song on the album is '7empest.' That's based on a real crazy riff that goes on for 21 bars [hums part of the riff] the basis for that actually popped into existence on a walk. The first draft was very rhythmic and then we tried to build in harmonies."
Tool's North American tour with Killing Joke starts Oct. 13. See if they're playing near you below and head here for tickets.
Tool + Killing Joke 2019 North American Tour Dates:
Oct. 13  - Sacramento, Calif. @ Aftershock Festival
Oct. 15 - Denver, Colo. @ Pepsi Center
Oct. 18 - Salt Lake City, Utah @ Vivint Smart Home Arena
Oct. 20 - Los Angeles, Calif. @ Staples Center
Oct. 21 - Los Angeles, Calif. @ Staples Center
Oct. 23 - Glendale, Ariz. @ Gila River Arena
Oct. 25 - San Antonio, Texas @ AT&T Center
Oct. 27 - Houston, Texas @ Toyota Center
Oct. 29 - Tulsa, Okla. @ BOK Center
Oct. 31 - Milwaukee, Wis. @ Fiserv Forum
Nov. 02 - Indianapolis, Ind. @ Banker's Life Fieldhouse
Nov. 03 - Chicago, Ill. @ United Center
Nov. 05 - Cincinnati, Ohio @ US Bank Arena
Nov. 06 - Cleveland, Ohio @ Rocket Mortgage Fieldhouse
Nov. 08 - Pittsburgh, Pa. @ PPG Paints Arena
Nov. 09 - Detroit, Mich. @ Little Caesars Arena
Nov. 11 - Toronto, Ontario @ Scotiabank Arena
Nov. 12 - Toronto, Ontario @ Scotiabank Arena
Nov. 14 - Boston, Mass. @ TD Garden
Nov. 16 - Newark, N.J. @ Prudential Center
Nov. 18 - Philadelphia, Pa. @ Wells Fargo Center
Nov. 19 - Brooklyn, N.Y. @ Barclays Center
Nov. 21 - Uncasville, Conn. @ Mohegan Sun Casino Arena
Nov. 22 - Atlantic City, N.J. @ Boardwalk Hall
Nov. 24 - Raleigh, N.C. @ PNC Arena
Nov. 25 - Washington, DC @ Capitol One Arena
Where Does Justin Chancellor Rank Among the Top 66 Hard Rock + Metal Bassists of All Time?