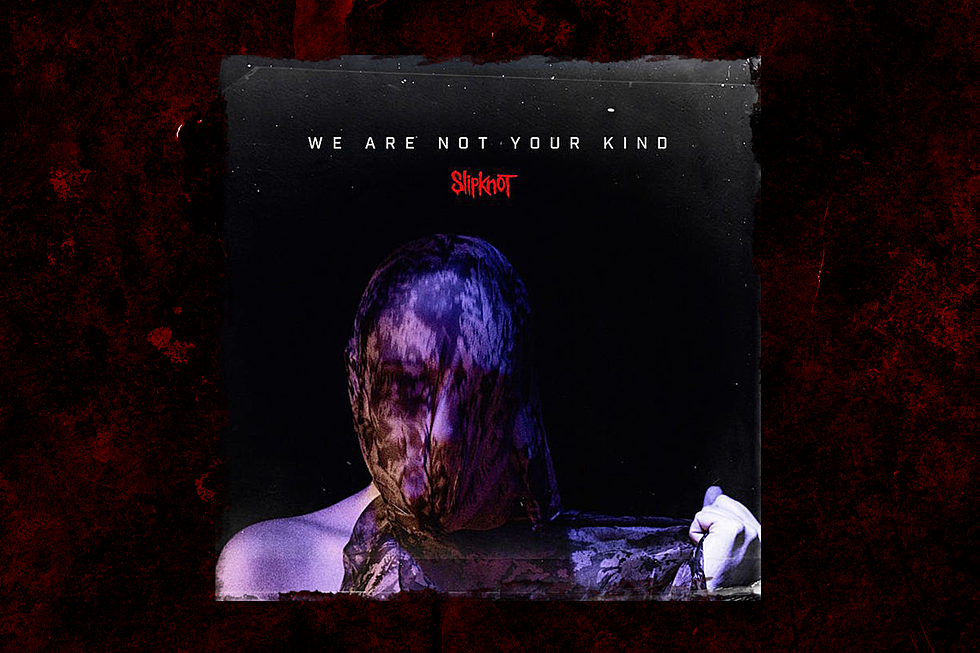 Review: Slipknot's 'We Are Not Your Kind' Permeated With Experimentation
Roadrunner Records
Every longtime Slipknot fan knows that ex-drummer Joey Jordison and late bassist Paul Gray (who died May 24, 2010) were instrumental in writing the first four Slipknot albums, Slipknot (1999), Iowa (2001), Vol 3: (The Subliminal Verses) (2004) and All Hope is Gone (2008). By their 10th anniversary, both members were gone and Slipknot took six long years to mourn, come to terms with their situation and rebuild for 2014's .5 The Gray Chapter, a tribute to their lost brother, Paul.
As such, The Gray Chapter was more an album of remembrance and survival than continuation; it was the band's heaviest release since Iowa, and it contained their trademark blend of death and thrash metal, atmospheric interludes and frontman Corey Taylor's hybrid of vocal roars, pained melodic crooning and short-sharp quasi-rap barks.
The album was widely praised and proved that Slipknot were back and capable of thriving without Jordison and Gray – if they stuck to the traditional frameworks that made them metal legends – which there's nothing wrong with. In fact, the formula spawned some killer songs, including "The Devil in I," "Lech" and "The Negative One," which earned three Grammy award nominations.
With We Are Not Your Kind, however, Slipknot have done more than play to their strengths, they've broadly expanded their parameters, taking the band in musical directions that they've previously only hinted at. Sure, the album is pure Slipknot – raw aggression, percussive assault and well-crafted melodies – just like The Gray Chapter. We Are Not Your Kind goes way beyond. It's a cohesive piece built on duality, fueled by ebb and flow and permeated with experimentation. Taylor's clean singing is as catchy as ever, yet it never interferes with the brutality of his sonic exorcism.
Slipknot have always worked best when they've had a narrative to follow. While they weren't concept albums, Iowa revealed the scathing fury of a band on the verge of stardom and (according to them) shoehorned into all the trappings of success.
All Hope Is Gone was created under acrimony and addiction and displayed the desperation and devastation of a group about to implode or undergo a seismic shift. And it's clear what motivated The Gray Chapter.
We are Not Your Kind addresses a new storyline in an experimental structure that, while not necessarily a concept album, is redolent of Pink Floyd's The Wall. There are three short, mostly instrumental songs, "Insert Coin," "Death Because of You" and "What's Next" that are filled with weird noises, unconventional techniques and nightmare samples that break up the frantic pace of the album, while introducing new elements of strangeness and horror.
Lyrically, We Are Not Your Kind is mostly about the past couple years of frontman Corey Taylor's life and his bitter separation from his wife Stephanie Luby, one that led him to the brink of madness and required him to exhibit great strength to try to keep from resorting to old habits. Judging from the songs, it's unclear if he succeeded. After album intro "Insert Coin," which features a pulsing alarm buzzing over descending gothic keyboards and haunting, layered sound effects, Taylor sings, "I'm counting all the killers" before his voice echoes, fragments and is swallowed by a louder and more harrowing noise that sounds like an airplane on an emergency descent, about to crash into the ocean. Anyone that misses the homage to Pink Floyd doesn't know British prog / psychedelia.
From there, Slipknot launches right into another blatant tribute in "Unsainted." This one is to the Rolling Stones choir in "You Can't Always Get What You Want" and the mellifluous, angelic chorus contrasts with Taylor's desperate vocals: "Oh, I'll never kill myself to save my soul / I was gone but how was I to know? / I didn't come this far to sink so low / I'm finally holding on to letting go."
The line is like a book preface for the album, which is fraught with tangible frustration, rage and self-loathing. Maybe Slipknot fans are at their best when Taylor is at his worst. His pain is our gain and it doesn't get much more agonizing than album-closer "Solway Firth": "While I was learning to live, we all were living a lie / I guess you got what you wanted / so I will settle for a slaughterhouse soaked in blood and betrayal… / You want the real smile or the one I used to practice not to feel like a failure?"
Being creatively fueled by real misery and heartbreak is a high price to pay and for Taylor's sake, hopefully his heart-on-sleeve exhortations are as effectively cathartic for him and the band as they are for their audience. Also, depression and anger hasn't made him any less productive, but why would it? There's no question that the guy has an addictive, Type-A, ego-driven personality. What other explanation is there for someone who sings for two acclaimed bands, is a New York Times best-selling author, takes on solo acoustic gigs and other side projects?
In the past, Taylor has spoken about his thrill-seeking behavior and the vulnerability underneath his thick layers of skin. And clearly, he has a knack for getting into self-destructive situations, even when he's sober. In "Nero Forte," one of the highlights of We Are Not Your Kind, he shouts, "Fists clenched tight in the pockets of my hoodie / and I know where I need to go / but the voice of reason can't say no / It's in the eyes… and heart / Just the latest psycho off the chart…. / You can do your worst to me / At the end of the day that's what you do best." Taylor's vocal animus is juxtaposed with soaring harmonized vocals: "A home like yours is upside-down / A hope like yours won't help me now." And it's all couched between a heavy chugging, melodic riffs, tumbling beats and a martial, marching mid-section.
If We Are not Your Kind was only fueled by Taylor's turbulent life it would get a little one dimensional. That's hardly the case. There are so many elements of creativity at play at times it's dizzying. Fans of alt-rock, experimental German rock, industrial and soundtrack music will likely hear numerous references to some pretty great stuff.
Back when Slipknot were working on All Hope is Gone, the band reached a point in which Taylor, percussionist Shawn "Clown" Crahan and guitarist Jim Root were tired of waiting to track their parts in "Studio A" so they went to a second, smaller studio producer Rick Rubin set up for them, and recorded more than a dozen weird, adventurous and inventive songs and song fragments, snippets of which made it to the album, but most of which remained in demo files.
Slipknot probably didn't insert any of those nine-year-old recordings into We Are Not Your Kind, but they've recaptured that same aesthetic of throwing caution to the wind, something they likely felt wasn't entirely appropriate for The Gray Chapter. Beyond the three segue tracks, the rest of the songs feature unnerving intros, unexpected mid-sections and striking conclusions that make the album Slipknot's most audacious, multifaceted and, arguably, most sincere offering to date.
Some diehard fans might not thrill to some of Taylor's vocal vibrato and the band's almost goth / new wave approach to "Spiders" or the acoustic-fueled, melancholy melodies of the mid-paced, almost proggy "A Liar's Funeral," which includes slow, stomping beats, melodic vocals and epic rhythm shifts.
Still, at well over an hour in length, maggots of all stripes and colors will find plenty to love about We Are Not Your Kind. It's uncompromising, unrelenting and unrepentant, and it's exactly the album Slipknot wanted to hear – maybe for a decade. Some of the record is almost alarming, like in "Not Long for This World," when Taylor sings, "Decide / Tell me how I'm gonna die / Cuz I've already gone away /…Not long for this world."
For Slipknot, there's truth in pain and positivity in cynicism. We Are Not Your Kind never reveals a shining light at the end of the tunnel, but in "Orphan" Taylor at least exhibits a purpose for all the anguish: "I'll put an end to all the fucking psychobabble / We eat the meat cause the meat had a soul / We take the lives cause to hurt makes us whole."
When Taylor sings the first lines of We Are Not Your Kind, "I'm counting all the killers," it's unclear if he's referring to all the individuals — especially his separated wife — who almost drained his will to create or if he's citing the Knot as the nine killers that are out to destroy and rebuild the metal landscape.
Either way, Slipknot's survival instinct and their acknowledgment that growth and evolution are necessary to thrive no matter the cost has taken them to a moment of musical breakthrough and a point of no return.
Every Slipknot Song Ranked