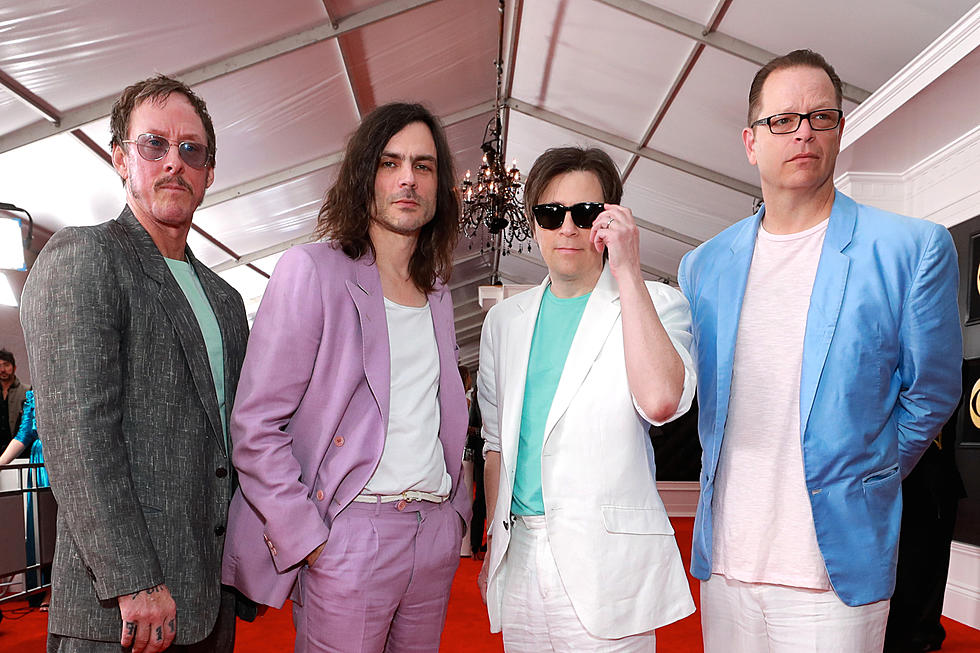 Rivers Cuomo: Weezer Will Go 'Back to Big Guitars' on Future Albums
Rich Fury, Getty Images
At the cross section of Weezer fans and metalheads is a nether region where dreams go to die. Or so we've assumed, as of late. After all, fans of the veteran Los Angeles act -- who've taken to covering classic hits as their late-career bread and butter -- aren't exactly holding out hope the emo-rock godfathers will crank their amps to 11 anytime soon.
"What I've been working on the last two weeks is back to big guitars," Cuomo says before comparing his songwriting surge to tunes on the band's 1994 debut. "Blue Album-ish, but a little more riffy. The working title is Van Weezer."
Cuomo explains the darkness of Weezer's upcoming Black Album isn't found in its guitar riffs, or lack thereof.
"Some fans have heard it, and they've said, 'I thought it was gonna be some superheavy, dark metal album,'" the longtime Weezer singer and guitarist lays out. "Actually, no. There's very little guitar. I wrote all the songs on piano."
Talk about a twist. But with Black Album title already in use, what will their return-to-form "big guitars" album be called? (And how much more black can a darker Black Album be? The answer is none. None more black.)
No matter, Cuomo will probably run through all the colors before the jig is up. The seasoned riff-maker is considering his tuneful lumps alongside the taste-making highs found in Weezer hits like "Beverly Hills" and "Buddy Holly."
"I've always thought of myself as an incredibly resilient songwriter," he explains. "I've taken so many hits and had so many failures. And still, I wake up the next morning, and I'm super excited to get back to work. I have complete faith that the next song I write is gonna be a huge song, and the next album is gonna be a huge album, and Weezer is gonna be a big stadium band. In spite of the fact that that never comes true, I still have always believed it."
The Black Album is out tomorrow, March 1.
These Were the 30 Best Hard Rock Albums of 2018