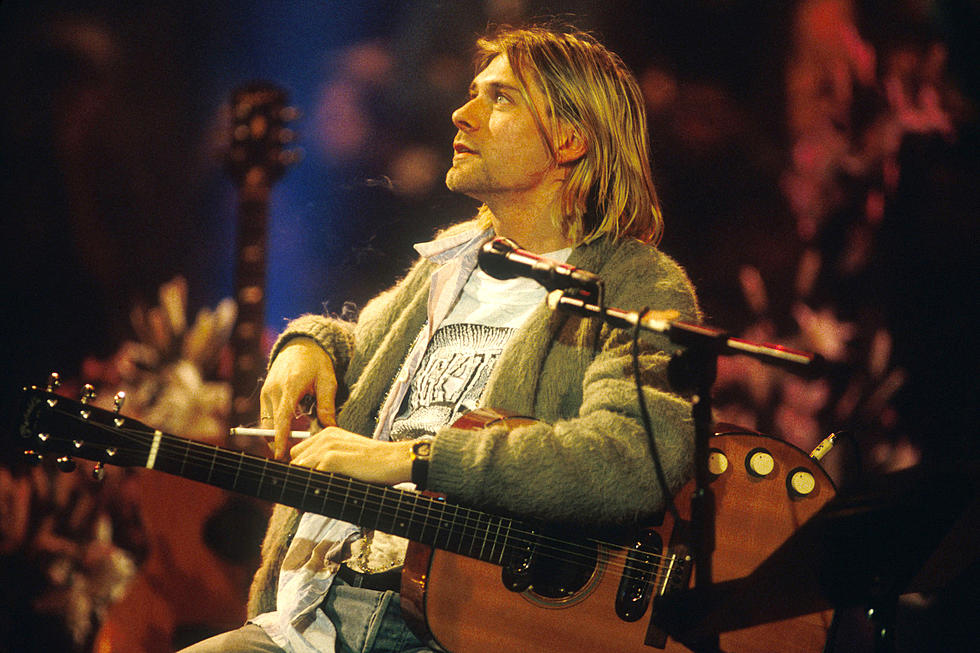 Kurt Cobain Sweater + Pizza Plate Sell for Thousands at Auction
Getty Images
A cardigan sweater worn by Kurt Cobain during Nirvana's last photoshoot went for $75,000 this past weekend. Meanwhile, a pizza plate used by the frontman sold for $22,400 at the same time. Both items were put up by Julien's Auctions, the celebrity-centered auction house announced Saturday (May 18).
See the items down toward the bottom of this post.
The used paper plate—complete with a Nirvana set list handwritten by the musician—hails from the band's gig at the 9:30 Club in Washington, D.C, on April 23, 1990, Julien's Auctions noted of the item, as Rolling Stone reported.
The sweater is one keen-eyed Nirvana fans may have already seen. Cobain donned it in photos surrounding the grunge act's final album, 1993's In Utero, released just months before the musician's death in April 1994.
"The shoot was meant to take place in Central Park in New York City, but due to Cobain being sick just hours before, the shoot was relocated to the basement of the hotel where the band was staying," the auction house described. "Cobain showed up three hours late to the shoot and immediately asked for a bucket due to his nausea."
As for the plate, "Cobain had eaten some pizza before the show and proceeded to write the set list on the plate he had been eating his pizza on," the auctioneer's description explained of the pizza plate's provenance.
The items are the latest in a string of revived recollections from Cobain's life and career, including his widow Courtney Love's recent revelation that the iconic "Smells Like Teen Spirit" rocker was "well fucking hung."
The 30 Best Grunge Albums of All Time