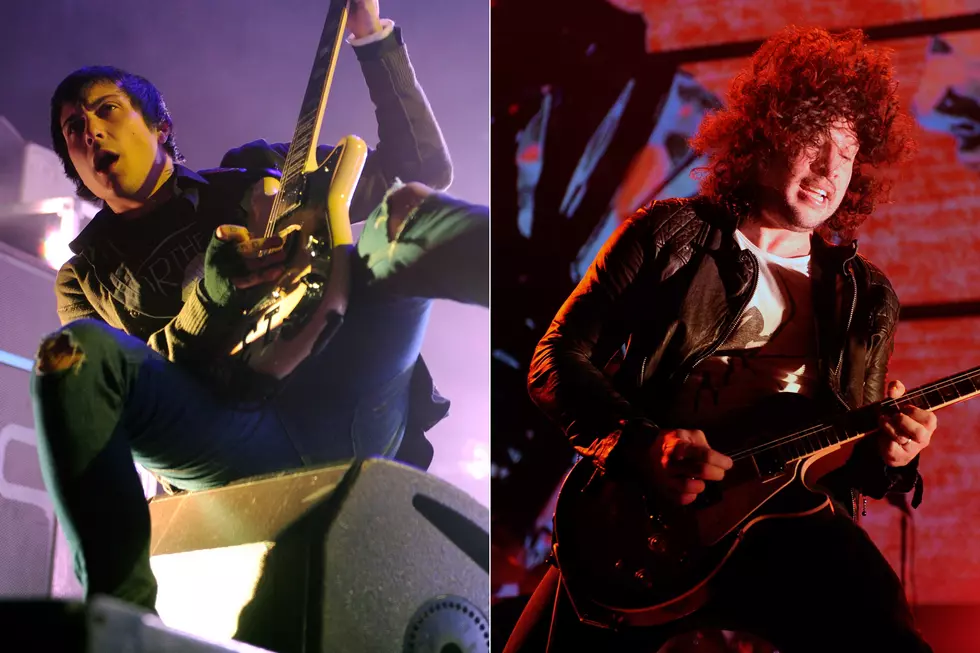 My Chemical Romance's Frank Iero + Ray Toro Reunite for First Time on 'One on One' Session
Ethan Miller, Getty Images (2)
Iero is out promoting his band Frank Iero and the Future Violents and he recently took part in a One on One at City Winery session in New York and asked his old bandmate Ray Toro to mix the audio for the session. This marks the first time the two musicians have worked together since My Chemical Romance's split in 2013.
"I really enjoyed doing this session at the winery and when they asked if we had anyone in mind to mix the tracks I immediately thought of asking Ray Toro," Frank said about working with Toro once again. "He's just so multi-talented and has such a great ear. He's been recording and mixing some rad projects these past few years, and it was an honor to have him work on this session for us."
Though Toro doesn't take part in the performance, his presence is felt in what is ultimately heard by the viewer. The session in full can be viewed below.
As stated, Iero does have new music to promote, with the newly released Barriers album arriving late last month. The album debuted at No. 5 on their New Artist/Heatseekers chart, No. 8 on the Hard Rock chart, No. 18 on the Independent Labels chart, and at No. 56 on the Top Current 200 chart.
While the "One on One" session finds Iero in a more intimate setting, look for a more rocked up version of the music when the singer-guitarist and his band play their regular shows. They're currently on the road, with a mix of their own shows and special festival dates worked in. See all their stops below and get ticketing information here.
Frank Iero + the Future Violents "One on One at City Winery" Session
Frank Iero + the Future Violents Tour Dates

June 14 - Orlando, Fla. @ The Social *
June 15 - Jacksonville, Fla. @ 1904 Music Hall *
June 16 - Columbia, S.C. @ The Senate *
June 18 - Charlotte, N.C. @ Amos Southend *
June 20 - Virginia Beach, Va. @ Elevation 27 *
June 21 - Washington, D.C. @ Union Stage *
June 22 - New York, N.Y. @ Rocks Off Cruise *
June 29 - Atlantic City, N.J. @ Atlantic City Beach [Warped Tour]
July 18 - Patchogue, N.Y. @ [Great South Bay Music Festival]
July 21 - Mountain View, Calif. @ Shoreline Amphitheater [Warped Tour]
July 23 - Portland, Ore. @ Wonder Ballroom ^
July 24 - Seattle, Wash. @ Crocodile Cafe ^
July 26 - Boise, Idaho @ Knitting Factory Concert House ^
July 27 - Salt Lake City, Utah @ Kilby Court ^
July 29 - Denver, Colo. @ Marquis Theatre ^
July 30 - Santa Fe, N.M. @ Meow Wolf ^
Aug. 1 - Dallas, Texas @ Gas Monkey Bar N' Grill ^
Aug. 2 - Austin, Texas @ Barracuda ^
Aug. 3 - San Antonio, Texas @ Paper Tiger ^
Aug. 6 - Phoenix, Ariz. @ The Crescent Ballroom ^
Aug. 7 - San Diego, Calif. @ House of Blues, Voodoo Room ^
Aug. 9 - Anaheim, Calif. @ Chain Reaction ^
Aug. 10 - Los Angeles, Calif. @ The Troubadour ^
Sept. 13-15 - Chicago, Ill. @ Doug@las Park [Riot Fest]
* Support from Reggie & The Full Effect (Solo)
^ Support from Geoff Rickley
Every My Chemical Romance Song Ranked