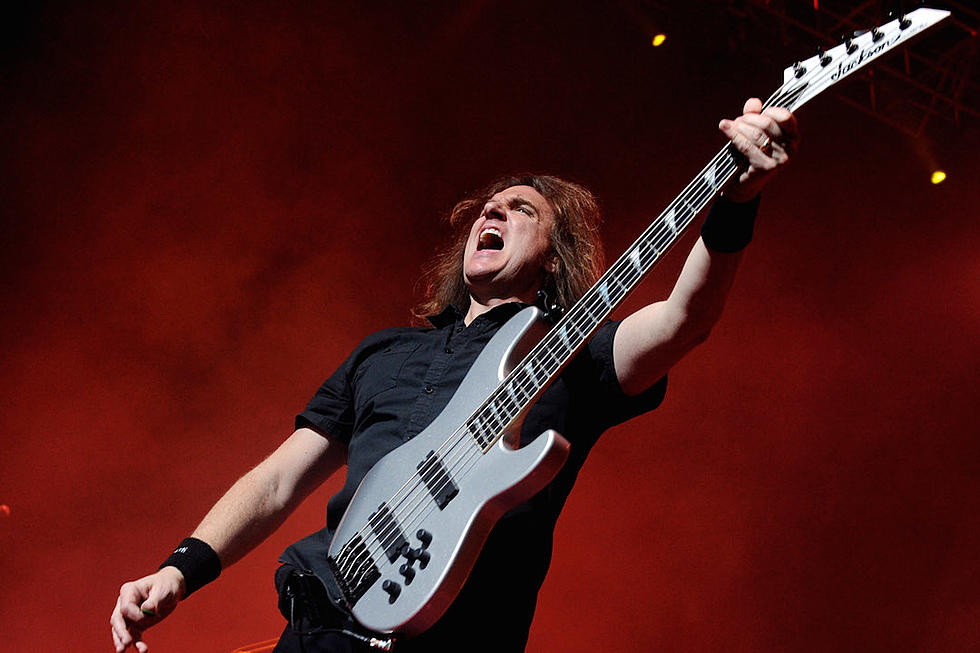 David Ellefson: Megadeth 'Have Not Actually' Started Recording New Album
Kevin Winter, Getty Images
Evidently, all those recent images of Megadeth members surrounded by studio equipment in what appeared to be a recording environment weren't entirely what they appeared. Talking to Eddie Trunk on Sirius XM's Trunk Nation Monday (July 15), bassist David Ellefson confirmed the band haven't "actually officially tracked anything" for an upcoming album, although they started pre-production on the record earlier this year.
When asked by the radio host to estimate "how far" the Megadeth record was completed, the musician explained the group are still in writing mode. It's a process that began prior to frontman Dave Mustaine's public cancer diagnosis last month. Listen to parts of Ellefson's interview with Trunk down toward the bottom of this post.
"Right now, we have not actually officially tracked anything," Ellefson responded. "I'd say we're probably two-thirds to three-quarters of the way there with the music. A bunch of lyrics have been written. Obviously, [he] can't go in and sing anything and start demoing anything now, at this point, at least vocally."
To Trunk, the musician also illustrated the surprise he and his other bandmates experienced upon learning Mustaine's diagnosis. In fact, the band co-founder didn't hear the news until Megadeth had assembled for the writing sessions near Nashville. It's these sessions, headed by engineer Chris Rakestraw, that led many (including Loudwire) to assume the band's upcoming effort was officially underway.
"I don't know how they discovered it," Ellefson said of the cancer diagnosis. "Of course, I was in Europe doing stuff, but obviously we're communicating, we're working on writing a record, we're sending files back and forth and stuff. … For me and for the band, it really came to light while we were down there working on the record."
Shortly after the unfortunate development, the Megadeth bassist reported the group were staying the course composing the album, outlining his "optimistic" outlook for the future of the thrash veterans.
"Dave has started his treatment," he said at the time. "We've been in Nashville for the last almost month and a half working on the album, so we were sort of watching this all unfold before us. And Dave, he has begun treatment, so things are moving forward with that."
Ellefson's new book, More Life With Deth, is out today (July 16). An accompanying album, Sleeping Giants, arrives Friday (July 19). The musician is currently on the road with his "Basstory" tour — see the dates here.
David Ellefson Speaks With Eddie Trunk
See David Ellefson in the Top 66 Hard Rock + Metal Bassists of All Time