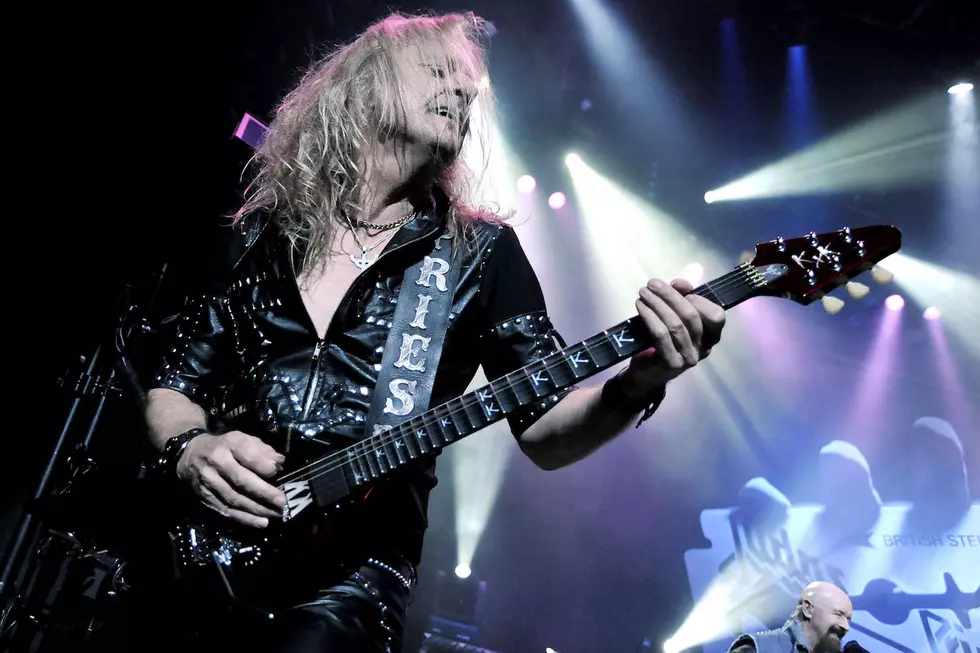 K.K. Downing Would Like to Play With Judas Priest at Rock Hall Induction
Kevin Winter, Getty Images
Former Judas Priest guitarist K.K. Downing has had a chance to revisit some of his older material of late, teaming with fellow Priest alums Tim "Ripper" Owens and Les Binks onstage (as well as Megadeth's David Ellefson). But with Judas Priest back on the ballot for the Rock and Roll Hall of Fame, might there be a bigger reunion to be had onstage for Downing?
Speaking with eonmusic, Downing stated, "I don't know what the deal is, if a nominated person like me or Les Binks gets in, are we entitled to play? I don't know how that all works, but I guess we'll fathom that all out. I would imagine for one day that people can sensibly think, 'Well, it doesn't matter. Nothing else matters; what matters is that we've achieved this.'"
He continued, "Collectively, we have played our part, and it should be a moment of splendor really, and enjoyment, and something that we can be pretty grateful of. And it doesn't hurt, you know? It's often said that funerals bring people together – that's not to say that getting in the Hall of Fame's a funeral! – but this could maybe have an effect that it just gives us the opportunity to get together and get on the stage and just enjoy the moment, really."
Downing calls the nomination "a great accolade," and adds, "It's not easy to get in there. It's difficult and it takes even giant bands a lifetime even to be nominated," pointing to the length of time for Black Sabbath to gain entry.
While the band missed out on their previous Rock Hall ballot inclusion, Downing is hoping this is the year they get their due. "I can't speak for everyone, but I would imagine that everyone is thinking that yeah, this could be the one," says the guitarist. "I hope that it is, because I think it would be a fitting, and a good thing to do, and I'm happy with it. I would like us to be together and enjoy this moment before it's too late and we may not be around to enjoy it."
The guitarist says induction without the late Dave Holland would be bittersweet, adding, "It's sad that Dave Holland is no longer with us, and I think I would feel pretty remorseful. Memories live on, and I think that I would like that opportunity to be over at that ceremony, and to be able to quite rightfully remind people. Obviously, Dave's name would be mentioned, we'd be playing songs probably that he played on, and that would be a nice moment, I think."
At present, the band is currently in the Top 5 in the voting for the "fan ballot," and Downing is encouraging the group's fans to continue to rally for them.
Fans can login to vote, with their voting capped at one ballot per day. Head here to make you votes count.
The voting concludes Jan. 10, with the results and the induction class announced soon after. The 2020 Rock and Roll Hall of Fame Induction Ceremony will take place May 2, 2020 at Cleveland's Public Hall.
Rock + Metal Acts That Deserve to Be in the Rock and Roll Hall of Fame