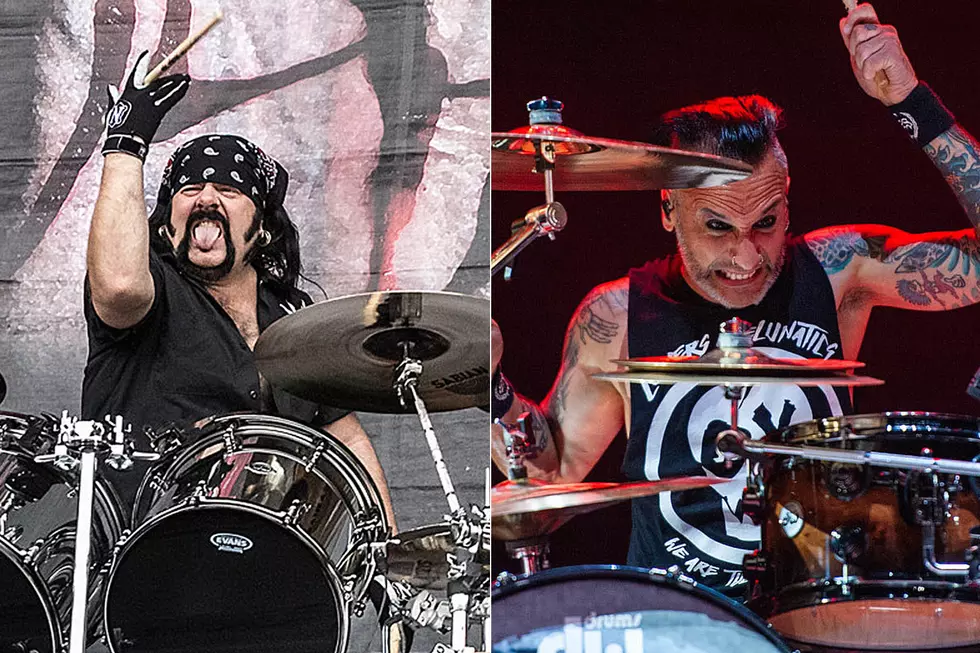 Hellyeah Enlist Stone Sour Drummer Roy Mayorga For Vinnie Paul Memorial Show
Kathy Flynn, WickedGoddessPhotography.com for Loudwire / Maria Ives, Loudwire
Ahead of the band's special May 11 show to celebrate the life and legacy of their late drummer, Vinnie Paul, Hellyeah have revealed the guest musician who will play drums for the celebratory gig.
Stone Sour drummer Roy Mayorga was announced as behind-the-kit guest for the upcoming Hellyeah performance. This follows the supergroup's earlier hint that a member of their extended "metal family" would play with the band in place of Vinnie Paul, the founding Pantera drummer who who died last year at the age of 54.
"Please welcome our dear friend and brother Roy Mayorga, who will be guesting behind the drum kit as we honor our brother Vinnie Paul," the band shared Monday (May 6) via their official Facebook page. "These men had so much love and mutual respect for each other, this makes our transition so much easier. Ready or not, here we come!"
Mayorga has been a member of Stone Sour, the hard rock group fronted by Slipknot singer Corey Taylor, since 2006. He's performed on each of the band's albums since that same year's Come What(ever) May. He's also been a member of Ministry, Nausea, Soulfly and others.
"Hellyeah: Celebrating the Life of Vinnie Paul Abbott - One Night Only" happens this Saturday, May 11, at the House of Blues in Las Vegas. You can get your tickets right here while they're still available for purchase.
Earlier this year, Hellyeah's released a new single, "333," featuring Vinnie Paul. It's from the band's forthcoming effort that has yet to receive a title and is due out June 28. (Pre-orders are available on both CD and vinyl from the band's official website.)
"Vinnie originally came up with the idea for '333'," Hellyeah vocalist Chad Gray previously said. "A lot of people may think Vinnie was just a drummer, but he was much more than just a badass, slamming, smashing drummer. He understood production and composition and he was very much a contributor to the writing process."
Where Does Vinnie Paul Rank Among the Top 66 Hard Rock + Metal Drummers of All Time?