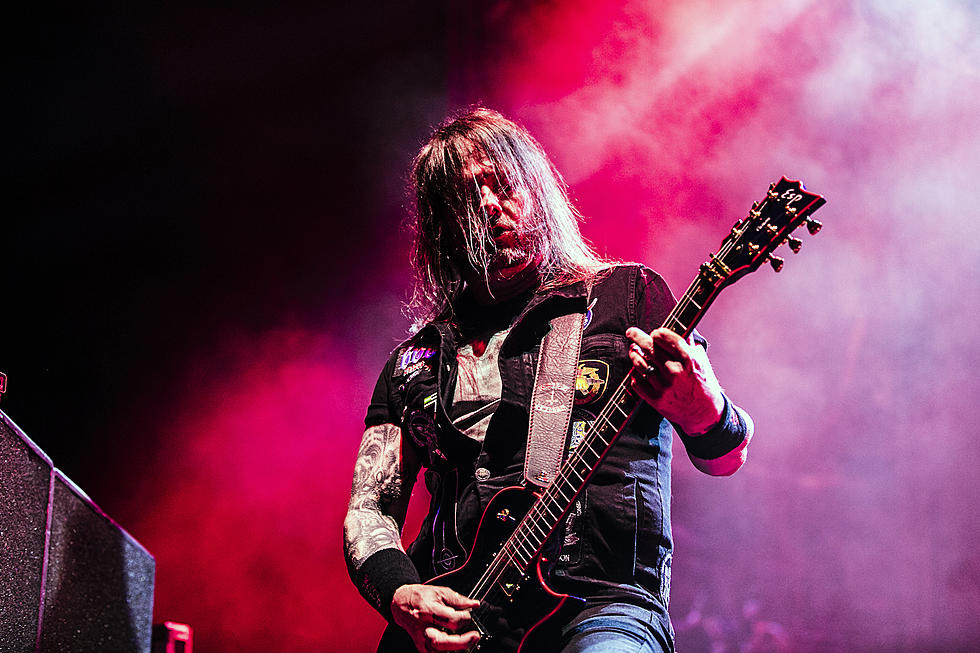 Gary Holt 'Abandoned' Exodus to Join Slayer, Former Bandmate Says
(Matt Stasi)
In a recent interview with Psychology Today, Dukes goes into detail about his time in Exodus and his feelings about Holt playing with Slayer. According to Dukes, though the guitarist did not officially depart from Exodus, he seemed to prioritize touring with Slayer more, which restricted his availability to tour with Exodus. "He abandoned Exodus to join Slayer," Dukes says. "I'm not judging the guy for that. But at the same time, you abandoned five friends who stood by you and toured with you for ten years."
Dukes then explains that he felt his 2014 dismissal from Exodus was solely a business move for the band to make more money off a "classic" lineup, since Steve "Zetro" Souza, who sang for the band for nine years, was called to return. He had just been married and relocated across the country and now felt pressure to make ends meet for himself and his new wife. "Now I'm fucking 47 years old and I'm starting over. I was pissed… at home with my wife, I would put a smile on my face and tell her everything's going to be fine. But inside I was not only terrified — I was seething."
Holt, on the other hand, left Slayer's farewell tour in December to be with his father, who was nearing his death at the time and unfortunately died soon after. As for Exodus, Holt told The Music Experience in November that there was new material underway. "I've been writing new Exodus material for like months now, close to a year now and we've got a massive fucking catalog of riffs and songs," said Holt. "We're taking our time. We're not in any hurry. We're going to make sure it's a fucking earthshaking moment when the album's due."
See Exodus in the Best Thrash Metal Album of Each Year Since 1983
Exodus / Slayer's Gary Holt - Wikipedia: Fact or Fiction?