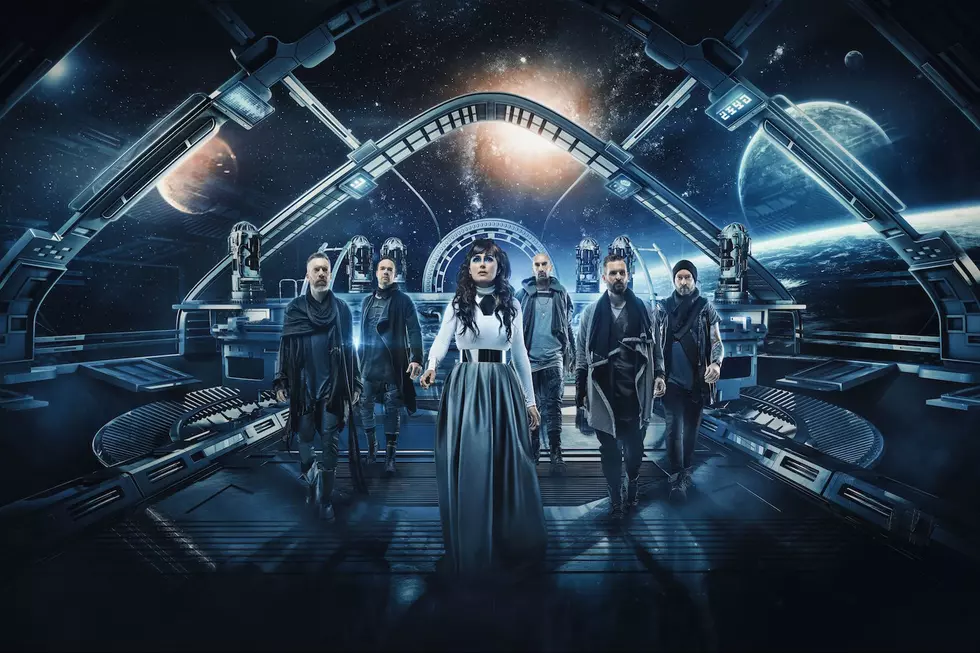 Within Temptation's Sharon den Adel: If I Left, the Band Would Be Finished
Spinefarm Records
For more than two decades, Within Temptation have remained at the top of the symphonic metal movement. The Netherlands outfit are not only one of the genre's most influential groups, but one of its biggest innovators as well. This notion couldn't be more apparent on their new album, Resist, which takes bold new steps embracing modern sounds like urban beats and more simplistic rhythms.
This time, they enlisted collaborators in Papa Roach's Jacoby Shaddix and In Flames' Anders Fridén on "The Reckoning" and "Raise Your Banner" respectively. It seems there's been an uptick in collaborations not just in metal, but across music entirely as streaming services continue to dominate listening trends. This can help serve as a gateway for fans to hear artists maybe they previously hadn't, extending an artist's reach as fans become increasingly eager to bounce between genres.
As for the new elements at work, it seemed to be a do-or-die situation for the band. Frontwoman Sharon den Adel acknowledged that inspiration for new Within Temptation music was low, putting the band's future in jeopardy, but her side project, the poppy My Indigo, helped to offer some clarity and direction.
Speaking about all of this and more is Sharon den Adel, in this exclusive interview.
It seems like streaming has started to really break down barriers in music, at least for fans, and the elitist factions are slowly dissipating, though they'll always be there in some sense. There's been a lot of style mixing in heavy music, something present on Resist as well. What's your take?
The thing is that bands who actually do this are not really in the metal scene at the moment but more in rock. They're arguing if the bands are pop, like Imagine Dragons or Twenty One Pilots who are combining all kinds of styles without hesitation.
That's also something that is inspirational for us — who cares about genres? You want to make a beautiful song and of course, when you are in charge you do your best, but you're not being afraid of combining styles together with the style we have been making for many years.
Resist embraces a more straightforward, heavy-hitting approach. Have you found the art of simplicity with this album?
In a way. In the past we normally covered every song with big orchestration, but at this moment we realized we just want to use it in a minimalistic way, only where it is necessary and where it is essential for the song.
Also with my vocals, there is more space for me to go different ways. It's a breath of fresh air to do it this way and it really helps us to find a new fire and enjoy everything again.
Some would say this album is more pop-friendly/modern, though any heavier band writing catchy music with some beats get that tag thrown at them today. 
For us personally we have always been a band that wants to write catchy songs in a way. I think Resist has a new sound for us. We like it so much because it sounds so refreshing. What helped us was sounds from reggae, hip-hop and other kinds of music — you get different kinds of rhythms. Even some songs in this album are groovy, which I have always liked playing but we were never able to [properly] do it. Somehow we did find a way to integrate that into our songs to make this more cool more metal / rock [hybrid] because it is more American sounding in a way.
I mentioned Jacoby Shaddix before and Papa Roach are a band who experienced a collapse of sorts after the CD fallout, but have come back and they understand the streaming era and how to use it to their benefit. They seem to be one of the leaders in rock on how to approach the new music industry. What have you learned from Papa Roach?
We have always followed the band and they have been around since we have. They played the same European festival as us too. It was based on music that we asked him and I have always liked his voice. "Getting Away With Murder" is a song that was huge in Europe and we have always liked it because it has an attitude with it. Their previous album [Crooked Teeth] made me fall in love again with Papa Roach. They had one song, in particular, that was one of the biggest singles that they had and I loved it.
We met them at Graspop, a really big festival in Belgium, we were located backstage together and I bumped into him. We just started talking about art because he does a lot of street art and graphic stuff — I like graphic [design] stuff as well and it was a really nice conversation. It is really nice to have someone like him backstage to give a little color and energy.
After, I told the band that if we ever write a song that will fit his voice we should ask him to sing. When we recorded the song, we were a week away from shooting the video and we called his management asking if he would consider it. I thought it would be really cool to have a guy singing along just giving extra energy and attitude to it that I can't do with my voice.
I've read that your solo project, My Indigo, revitalized your spirit regarding Within Temptation. Was there any one moment where you went from doubt with your involvement with the band and then realized that you absolutely had to do another album?
I wasn't able to write new music because I didn't know which direction the band should go. I had no inspiration; I didn't know what to write and then I lost my passion for it. I was really tired of everything -- all the touring -- for more than 20 years of being my whole adult life I've been in this band.
I didn't know how to come back again and My Indigo actually helped me do that. I needed to write about other stuff than I was normally writing about. When that was out of the way and I had done my thing, eventually, slowly, it came back again and I felt I really wanted to make something with more attitude — more strong and epic.
Were you considering leaving Within Temptation and would they have had to find a new singer or would the band have been done completely?
I think Within Temptation would have been done completely. All the band members have a lot of side projects that they do for fun, but the strength of the band has always been that we've been a group for a long time. I think if one throws in the towel, the rest might stop as well. They supported me throughout the whole process — we are a very tight group. I think everybody is replaceable but it's more like, do you want to be? Do you want someone to be replaced and can you still find the passion together again?
Thanks to Sharon den Adel for the interview. Within Temptation's new album, 'Resist,' is out now and can be ordered here. The band's North American tour with In Flames begins on Feb. 28 and you can see the full list of stops at this location.
See Sharon den Adel in the Top 30 Frontmen + Frontwomen in the 21st Century