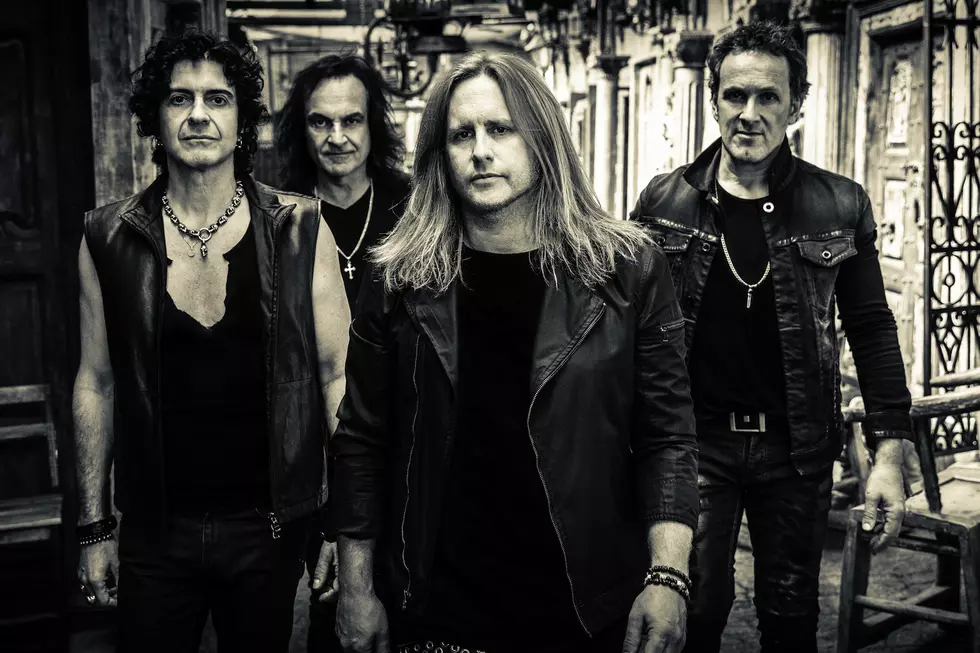 Vivian Campbell: Last in Line Didn't Want a Singer Who Could Emulate Ronnie James Dio
Frontiers Music Srl.
Forming after the tragic passing of Ronnie James Dio, Last in Line united members of the original Dio band in tribute to the late heavy metal legend. While this may have been the band's vision when they started in 2012, aspirations to write new music and develop their own identity quickly grew and were realized on their debut album, Heavy Crown, in 2016.
Unfortunately, Last in Line had their own internal death to contend with after bassist Jimmy Bain died aboard Def Leppard's "Hysteria on the High Seas" cruise at the age of 68. Seeing it through, they recruited Phil Soussan, breaking the Dio connection as the bass player had never previously worked with Ronnie. At this point, though, the ties to Dio were no longer significant, especially considering singer Andrew Freeman possesses his own distinct style, inspiring little to no comparisons to the diminutive singer with the skyscraping voice.
After talking with Vivian Campbell, also of Def Leppard fame, it seems he's happy to keep it that way, a notion further evidenced by Last in Line's new album, simply titled, II. There's no sense of Dio's magic and mystery on II, which instead tackles real-world issues all bound in agonized riffs powered by Vinny Appice's boulder-pushing drum work.
Our conversation also veers away from Last in Line a bit, going back to when Campbell was ousted from the Dio band, briefly joining Whitesnake before getting the call from Def Leppard. Find out how that shook out below.
There's this late '80s / early '90s sleazy, back-to-basics blues rock that seems like it was about to emerge right before grunge came along and nuked everything. Can you tell me about in the mindset of the band as you were making this album?
The way that Last in Line writes is very diametrically different to how Def Leppard writes for example. I mean, with Leppard, it's about songs — you need ten tracks or eleven tracks for an album and that will do. But with Leppard, it's a very specific thing, and when I personally write for Leppard, I bring in songs as fully realized as possible.
When I write with Last in Line, and what stems true for anyone in Last in Line, we never come in with a song. We only come in with a seed of an idea and we grow it organically. This goes back to the early deal days. I mean, that's how we did Holy Diver. That's how we did Last in Line, and that's how we did the Sacred Heart album.
I don't know if that process changed after I was out of the band, but that's how we wrote with Ronnie. We'd play it to Ronnie there and even when he would come in, and Ronnie would either give us a thumbs up and start looking through his lyric books. Or else he'd suggest, "Well why don't you try this there?" Or he'd make some musical adjustments, and we'd change it.
I like that. I feel like bands are returning to the essence of songwriting, which is getting in the same room together instead of sending files back and forth online.
I was adamant that we were always gonna be this way with Last in Line. I remember sitting down with [bassist] Phil Soussan one day and he started talking to me about song ideas and I said, "Whoa, whoa, whoa. Do not come into a Last in Line session with a song. Leave it for your solo album."
That's not how we work because it wouldn't be the flavor of the band. If I brought in a song, if [singer] Andrew [Freeman] brought in a song, if Phil and Vinny brought in songs, they would be individual songs that we would coax to make a sound like Last in Line.
It would never work for Def Leppard. And that's not to say that Def Leppard doesn't have an identity and a sound, but Def Leppard writes very specifically. Nine times out of ten it's because we are looking for a specific kind of song. We discuss what kind of album the next record should be based on what the last one was and how it did and historically and where we feel the music's going and then our place in music is going.
With Last in Line, we put no constraints and no constrictions on to what we're gonna do. We solely go in and play. And if it doesn't pass the Vinny smell test, we immediately bone it and move on to something else. The Vinny smell test is that it can't be too happy.
Vinny hits so hard. I can't imagine him playing anything that's major and upbeat and happy like that.
No shit. Vinny is the hardest hitting drummer ever. I feel I am on my A game plus when I play with Vinny. He constantly moves the goal post and never plays the same thing twice. When you play with Vinny, you gotta have your eyes open, and you gotta be on your toes. He absolutely makes me the best I can be as a guitar player. To be on the stage with Vinny is a fucking gift. I can't say enough good things about it. And top of it, he's one of the loveliest people. He's a genuine human being, and he's very very very funny. He's great to be around.
When playing onstage with Last in Line, a lot of times playing the older Dio material, there has to be a lot of images that come back to mind or experiences. Is there anything that Andrew Freeman has done onstage that reminds you of Dio?
Andy doesn't sound like Ronnie which is good, and that's part of the main reason that this all happened. If he sounded like Ronnie I would have told him to go away. Ronnie was a unique voice, probably the best of the genre, and certainly no one has ever sounded like him. That would be so ridiculous to try and emulate Ronnie.
He doesn't remind me of Ronnie in any way and he's a much more energetic and aggressive frontman than Ronnie was. Ronnie had his own certainly unique style of engaging his audience. Andrew's much more in your face, which I think kind of suits the nature of the times.
Andrew writes very dark lyrics and we do live in very, very dark times. When we released a lyric video for the song "Year of the Gun," I noticed that immediately people took it as an anti-gun song. I don't believe that that's the case. I think that people are very quick to judge and are misinterpreting the meaning of that song. It's merely a statement about what is going on in this day and age. I don't think it's taking the stance one side or the other.
Andrew lives in Las Vegas and he was in Vegas last year when that whole fucking thing went off at that concert. The fact that we're musicians and that was our line of work where the biggest slaughter in American history happened, that's what prompted Andrew to write "Year of the Gun."
It's not for guns. It's not against guns. It's just a reflection on the times, and the circumstance, and the craziness and the polarization of this country that people can't even talk about guns. They're totally missing the fucking point.
When you were auditioning for Def Leppard I read that Adrian Smith of Iron Maiden also auditioned. I think that would have been an interesting fit. After you had split ways with Dio you had that bit in Whitesnake. Were there any other bands that you auditioned for? Did you audition in turn for Maiden?
Oh no. I never got offered that. After Whitesnake, I was with River Dogs. We did one album that totally fell off the face of the earth, although I thought it was a great record. Then I did Shadow King with Lou Gramm and at the same time I was doing that, I was also writing and cutting demos for what would have been a solo record that I was hoping to make. That's when I got the call from Joe about joining Def Leppard.
So no, there were no others. I was not interested in joining another band, to be honest. If Iron Maiden had called me, I don't know what I would have said, but I'm glad it was Def Leppard that called me. I was a huge fan like going way back to the early days predating the first album. Plus, I knew Joe socially.
Did you ever play with Def Leppard with your early band Sweet Savage at all?
No, but I was very aware of what Def Leppard was doing, even when I was in Sweet Savage. We were very inspired by the route that they took — the independent route like raising some money to press their own single, getting it to John Peel and Jeff Barton.
Joe Elliott would call me when he came to L.A. looking for a pickup football [soccer to the Americans] game on a Sunday morning. When I was in Dublin, I'd see Joe, we'd go out for drinks or dinner or whatever. So, our relationship had nothing to do with music. I knew the kind of person that Joe is and I think that he kind of knew the person that I am.
Def Leppard probably wouldn't have called me to ask to join their band, but it was only because Joe knew who I was as a person. He thought, "Well, I know this guy, I like this guy, I think he'd be right in Def Leppard." And it's been 27 years and I think it's working out.
Thanks to Vivian Campbell for the interview. Snag your copy of Last in Line's 'II' here and follow the band on Facebook to stay up to date with everything they're doing.
Where Does Vivian Campbell Rank Among the Top 66 Hard Rock + Metal Guitarists of All Time?