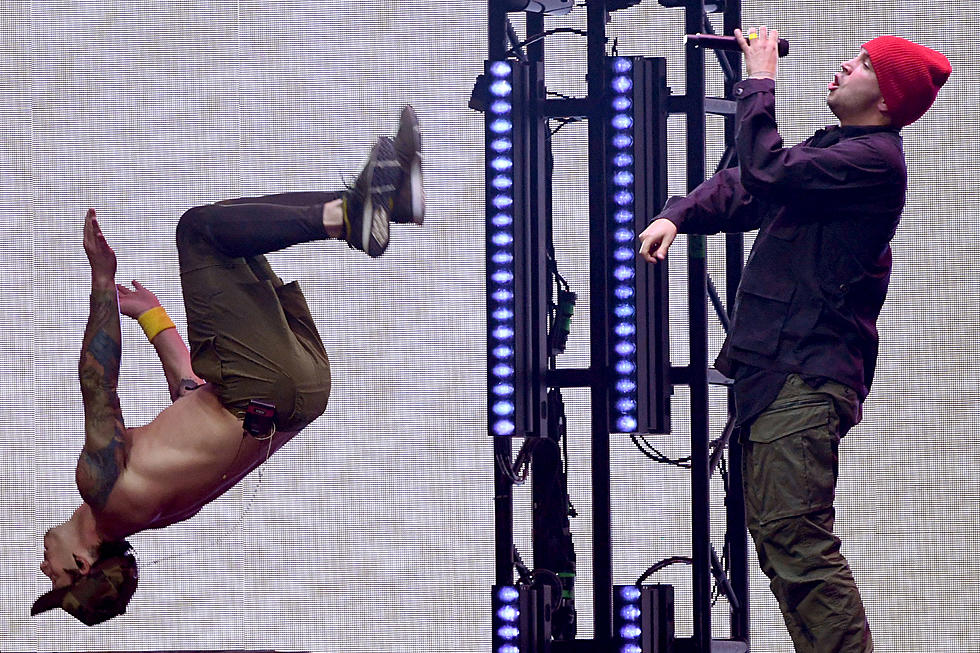 This Twenty One Pilots Album Is the Most Streamed Album by Any Group Ever
Kevin Winter, Getty Images
Whether you think they're rock or not, it doesn't matter. Twenty One Pilots are one of the defining artists of the last decade and a recently-revealed mind-blowing stat proves it. The group's 2015 album Blurryface is officially the most streamed album by any group — ever.
Chart Data regularly posts updates on music stats and activity, sharing the news (seen below) that Twenty One Pilots' fourth album surpassed 3.5 billion streams just on Spotify as of July 3 and still holds the title as streaming's most popular album by a group.
At press time, the group has nearly 15.6 million monthly listeners and of Blurryface's 14 tracks, "Not Today" is home to the least amount of streams at just under 86 million. The most popular is "Stressed Out," the only Twenty One Pilots track to breach the one billion streams mark. Not even every version (original, remix and Diplo remix) of Lil Nas X's Nine Inch Nails-sampling hit "Old Town Road" has a combined one billion Spotify streams (833 million at press time).
Each one of the album's 14 tracks has been certified gold by the RIAA, destroying other historic singles landmarks in rock. The first thing that comes to mind, of course, is Def Leppard's 1987 pop-metal hybrid smash, Hysteria, which yielded seven singles and was certified 12 times platinum by the RIAA all the way back in 1998.
If Def Lep had allowed their music to his streaming services earlier than the beginning of 2018, its likely the group would have added to that multi-platinum tally as streaming numbers are now tabulated as part of album sales.
Still, Twenty One Pilots have a long way to go to catch up to the RIAA-certified diamond status of other megalithic rock records (see those below) as Blurryface was certified four times platinum in January of this year.
20 Best Selling Hard Rock + Metal Albums in the United States