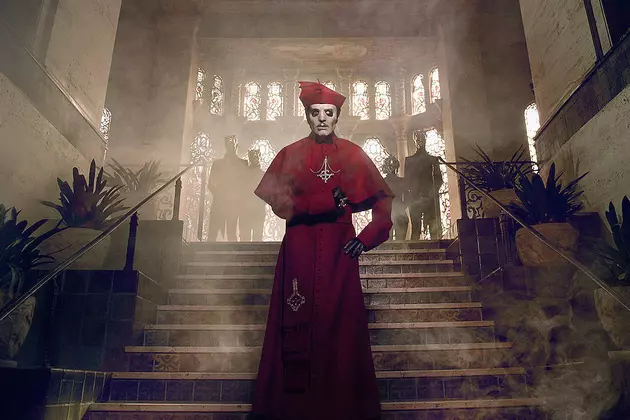 Tobias Forge: How Iron Maiden Influenced Ghost
Photo Credit: Mikael Eriksson
2018 has been a banner year for Ghost, and it all ends with an extremely ambitious tour, featuring arena shows in the U.S. With the Swedish cult act on the cusp of becoming one of heavy metal's great immortals, we got on the phone with Ghost mastermind Tobias Forge to talk all about his upcoming plans, Carpenter Brut's new version of "Dance Macabre," what Forge learned from touring arenas with Iron Maiden and more.
So the Carpenter Brut cover, did they write this before and send it to you, or was this a collaboration? How did this whole thing get your attention?
I knew Franck and the band from before. I think our whole relationship started a few years ago. I'm a big fan of Deathspell Omega, and because he had produced or recorded them, he emailed me introducing himself, saying, "Hey, I'm the producer of Deathspell Omega and I just wanted to let you know that I have a band called Carpenter Brut and we would love to, at some point down the line, do some sort of collaboration." I said, "Okay, great."
I've been terribly busy, and basically, as much as my intentions are pure, very often when it comes to collaborations or doing things or even socially sometimes, my intention is always like, "Yeah, of course." But between being on tour… if you come out on tour and hang, I'm there, but usually when I'm off tour, I'm pretty much domesticated, I have a family. We kept postponing, and we sort of kept in touch.
So [Carpenter Brut] came out on tour. Me and Franck -- it was basically the first time we'd ever hung out together, and that I think furthered the bond and the idea of, "Well, at some point we should do something." I'm a big fan of '80s music, for lack of a better word. I'm a big fan of dance music, but especially dance music when it comes in the form of '80s horroresque dance music, and I know just the guy who does music just like that.
Carpenter Brut even used different vocal melodies at times, as opposed to your original version of "Dance Macabre." Did Carpenter Brut remix your vocal lines, or did they use parts that didn't actually make the Ghost version of the song?
No, they were not given any alternate takes. I always layer my vocals a lot. I sing a minimum of three layers of the same line every time and then it's always one or two or sometimes even more harmonies. If you just mute the music, and you have all the harmonies in there, the harmonies, obviously, will dictate the chords underneath. So in order for him to alternate and change with the chords, if he wants to change that, sometimes he needs to adjust the tone or a note here or there, and you might wanna skip those harmonies and sort of change them a little to follow the orchestration of the new chord sequence. I'm assuming that is what he did, because it sounds correct, for lack of a better word.
So back in 2015, I spoke to a Nameless Ghoul for Loudwire, and he talked about the "growing pains" of Ghost's live show as it becomes more and more elaborate. Now that Ghost will be playing arenas, how have those "growing pains" continued?
There are several and they're quite intense. I was told before that one of the hardest jumps to do, painlessly, is the one from playing clubs into playing arenas. I am completely aware of that now. The production that you jam into a theater, regardless of if there's 900 people in the crowd or 3,500, is basically a production that's supposed to be seen through a proscenium sort of hole, and that means there are certain aspects and angles of the production that you won't see as a spectator.
When you go into an arena like the Forum, all of a sudden you have a completely different angle. There's a completely different degree from which people are seeing your production, so you have to make that as close as possible to the other bands that they have seen in an arena. Years ago we played the second biggest ice hockey arena here in Stockholm. It's not the biggest one, but it's basically our Madison Square Garden. That's the place where every band ever has played. All the bands in the '60s… the Beatles played there, the Stones played there, Iron Maiden played there like five or six times in the '80s. It's the place where most people, if you're older than 30, you have seen concerts there. Obviously, the Forum, same thing. Every [big] band on the planet has played there.
You have to go in there knowing that last time a lot of those people were here, they might've seen Guns 'N Roses, or they might've seen Muse, or they might've seen U2. That is the hardest thing; to find that thing that works for one night, because the day after and the day before, you might do a smaller venue. Even though it's a theater stage and 3,000 people, that's big enough, but you cannot just take that production and just put it onto the Forum stage, as you won't look cool.
I think that the hardest thing to get to terms with emotionally is the fact that you don't really have the time to get good at doing those arena shows, because the production will be something that you see maybe one time before we do the show. If you're headlining at Hellfest or Wacken or Graspop or something, and all of a sudden you're playing in front of so many more people, and you have to step up everything five or six or 10 times. You're used to having maybe eight cans of fire, but on this show you need to have 28, because there has to be fire everywhere, because people standing 200 feet away, they need to see it.
I love playing arenas; it's the best thing. As much as I like the intimacy of theaters, that is my favorite size of show, because if you're playing arenas, especially if you do a whole consecutive tour playing arenas, there are no legal limitations. There's some limitations, but it's not the same thing as when you come into an old, wooden theater that was built in 1902 that you cannot use fire in, you cannot use confetti in it, you cannot blow shit up, and oh, by the way, you cannot move the curtain, or whatever. There's tons of things like that.
When you do arenas consecutively, that's when people really get value for their money. That's when you can be consistent. That's another thing that I am very much hoping to become, consistent, in the sense that when you go see Ghost, you can count on us having fire, count on us having the pyro. You can count on us doing that gag and that gag and that gag.
Did Ghost learn any important lessons from touring arenas with Iron Maiden?
One of my earliest sources of inspiration when it comes to wanting to become a touring musician playing arenas was carefully and hysterically studying the booklet of Live After Death. That was my measuring tool in terms of, "That is what a tour looks like." That is how many shows you do. Which might give you an idea of why we toured so much, because that is what I learned. That is one of the reasons why I even wanted to become a musician and be on tour, because I read about it. I used to sit with an atlas, a map book, and I used to follow the tour and watch where they were going, and oh, they had a day off in Saginaw. Back then I didn't have any internet or anything, so I didn't know what Saginaw was. I had no point of reference, but I knew that Iron Maiden probably had a day off there in 1985.
Fast forward to 2010, '11, '12, something, we started touring with them. We're behind the famous stage set they have. And "Wow, there's that Eddie doll," and "There's that backdrop." Then I got to know the guys, the band. Steve [Harris] and a lot of their crew are good friends of mine, and we even have people in our crew that either have been with them or are doing both. There's a lot of cross-pollination between Iron Maiden and Ghost nowadays. They have been extremely important for my whole reason wanting to be here and the reason why I've gotten to the place where I am now.
For Ghost's full run of 2018 North American tour dates, including arena shows in cities like Los Angeles and Brooklyn, click here.
2018's Best Metal Albums… So Far
10 Unforgettable Ghost Moments