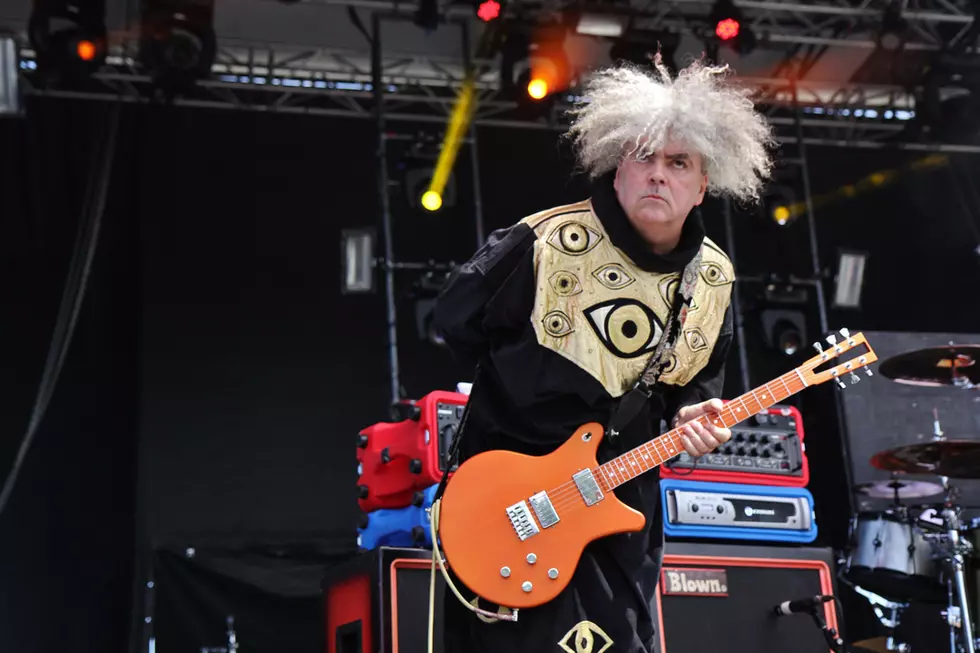 The Melvins Announce Massive Summer 2017 North American Tour
Liz Ramanand, Loudwire
Noise metal pioneers the Melvins will embark on a 12-week North American tour in support of the upcoming double album, A Walk With Love & Death. The new tunes will be released on July 7 by Ipecac Records and the band will share dates with their labelmates Spotlights.
The double album is a special one as it will touch on two distinct personalities of the band. Death will be the real deal, scathing Melvins record, and the other half will be Love, encompassing the score to a Jesse Nieminen directed film that will share the same title as the new album. The film does not have a release date currently but the trailer can be seen below along with tour dates.
"This was a huge undertaking," explained singer Buzz Osborne. "All three things: the album, the soundtrack and the film are benchmarks for us." Drummer Dale Crover added, "A Walk With Love and Death is one giant, dark, moody, psychotic head trip! Not for the faint of heart. You'll sleep with the lights on after listening."
A Walk With Love & Death will be released on July 7 and will feature Joey Santiago of The Pixies along with members of That Dog and Le Butcherettes.
Watch the Trailer for 'A Walk With Love and Death'
The Melvins 2017 North American Tour Dates
7/5 -- San Diego, Calif. -- Casbah
7/6 -- Santa Ana, Calif. -- The Observatory
7/7 -- Los Angeles, Calif. -- The Troubadour
7/8 -- Fresno, Calif. -- Strummer's
7/9 -- Sacramento, Calif. -- Goldfield Trading Post
7/10 -- San Francisco, Calif. -- Great American Music Hall
7/12 -- Portland, Ore. -- Hawthorne Theatre
7/14 -- Vancouver, British Columbia -- Venue Nightclub
7/17 -- Edmonton, Alberta -- Union Hall
7/18 -- Calgary, Alberta -- The Marquee
7/20 -- Winnipeg, Manitoba -- Pyramid Cabaret
7/21 -- Fargo, N.D. -- The Aquarium
7/22 -- Minneapolis, Minn. -- Grumpy's Bash
7/24 -- Milwaukee, Wis. --Turner Hall Ballroom
7/25 -- Chicago, Ill. -- The Metro
7/26 -- Grand Rapids, Mich. -- The Pyramid Scheme
7/27 -- Detroit, Mich. -- El Club
7/28 -- Cleveland, Ohio -- Grog Shop
7/29 -- Columbus, Ohio -- A&R Music Bar
7/31 -- Pittsburgh, Pa. -- Rex Theater
8/1 --  Syracuse, N.Y. -- The Westcott Theater
8/2 --  Boston, Mass. -- Paradise Rock Club
8/3 -- New York, N.Y. -- Irving Plaza
8/4 -- Philadelphia, Pa. -- Union Transfer
8/5 -- Asbury Park, N.J. -- The Stone Pony
8/6 -- Baltimore, Md. -- Ottobar
8/8 -- Richmond, Va. -- The Broadberry
8/9 -- Carrboro, N.C. -- Cat's Cradle
8/10 -- Knoxville, Tenn. -- The Concourse
8/11 -- Louisville, Ky. -- Headliner's Music Hall
8/12 -- St. Louis, Mo. -- The Ready Room
8/13 -- Lawrence, Kan. -- The Bottleneck
8/15 -- Englewood, Colo. -- Gothic Theatre
8/17 --  Salt Lake City, Utah -- Urban Lounge
8/18 -- Las Vegas, Nev. -- Psycho Fest
8/20 -- San Jose, Calif. -- The Ritz
8/21 -- Santa Cruz, Calif. -- The Catalyst
8/22 -- Los Angeles, Calif. -- The Echo
9/5 -- Phoenix, Ariz. -- Crescent Ballroom
9/6 -- Tucson, Ariz. -- 191 Toole
9/8 -- Austin, Texas -- The Mohawk
9/9 -- Dallas, Texas -- Tree's
9/10 -- San Antonio, Texas -- Paper Tiger
9/11 -- Houston, Texas -- Warehouse Live (Studio)
9/13 -- New Orleans, La. --One Eyed Jack's
9/14 -- Pensacola, Fla. -- Vinyl Music Hall
9/15 -- Jacksonville, Fla. -- Jack Rabbit's
9/16 -- Tampa, Fla. -- The Orpheum
9/17 --  Ft. Lauderdale, Fla. -- The Culture Room
9/18 --  Orlando, Fla. -- The Social
9/20 -- Athens, Ga. -- 40 Watt Club
9/21 -- Atlanta, Ga. -- The Masquerade (Hell Stage)
9/22 -- Nashville, Tenn. -- 3rd & Lindsley
9/23 -- Memphis, Tenn. -- Hi-Tone
9/25 -- Madison, Wis. -- High Noon Saloon
9/26 -- Rock Island, Ill. -- Rock Island Brewing Co.
9/27 -- Des Moines, Iowa -- Wooly's
9/28 -- Omaha, Neb. -- The Waiting Room
9/30 -- Ft. Collins, Colo. -- Aggie Theatre
10/2 -- Albuquerque, N.M. -- The Launchpad
10/3 -- Flagstaff, Ariz. -- The Green Room
Most Anticipated Hard Rock + Metal Albums of 2017