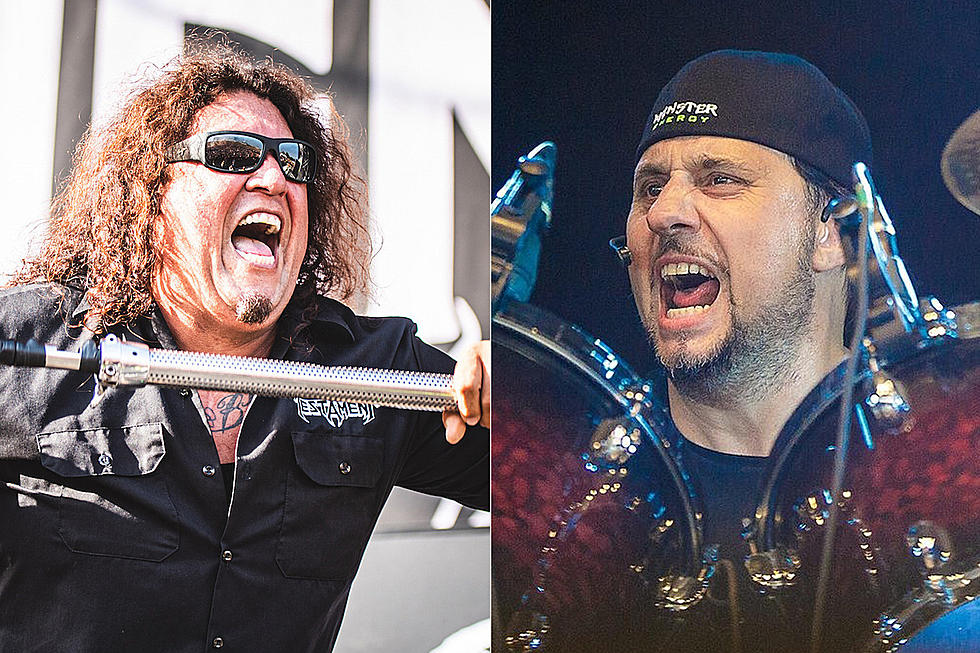 Testament Officially Announce Dave Lombardo Is Their New Drummer
LightRocket via Getty Images / Peter Troest, Getty Images
Testament have officially confirmed that legendary drummer Dave Lombardo has rejoined the band following the departure of Gene Hoglan.
The move is a dream scenario for thrash fans, especially when considering that Lombardo's first stint with the band was very brief (1998-1999) albeit impactful as his forceful drumming was heard on the 1999 record The Gathering, a record many hold in high regard and consider to be among Testament's best.
This also means Lombardo will be teaming back up with bassist Steve DiGiorgio, who was featured on The Gathering as well. DiGiorgio's first tenure with the group lasted a bit longer than Lombardo's — he was in the band from 1998 through 2004 and linked back up with them in 2014 as the successor to Greg Christian.
It's the first time the former Slayer drummer (who currently sits behind the kit in Suicidal Tendencies, Misfits, Dead Cross, Mr. Bungle, Fantômas and more) will be in the band with Alex Skolnick, who left in 1992, briefly came back in 2001 and has remained part of the lineup since 2005.
"I'll state the obvious. We are more than overwhelmed to welcome back Dave Lombardo to play drums with Testament. We are so excited to share the stage again with Lombardo. Dave added immense power when he joined the band for The Gathering and we are ecstatic to see what new flavor he will bring back to Testament," commented singer Chuck Billy.
Lombardo offered, "This is a long-awaited reunion that was bound to happen. Once upon a time, we created a thrash masterpiece. I have no doubt that our musical chemistry will pick up exactly where we left off. I love the Testament family and am very excited to be joining them once again. Pure brutality awaits."
"Having Dave Lombardo join us again feels like we are picking up where unfinished business had left off," added guitarist Eric Peterson. "There is a silver lining to every cloud and working again with Dave calls for us to celebrate with our horns held high!"
Hoglan, meanwhile, leaves behind a noteworthy legacy as the drummer of Testament for the last decade, having played on three albums: Dark Roots of Earth, Brotherhood of the Snake and Titans of Creation. Prior to joining in 2011, he was in the group from 1996 through 1997 and played on the Demonic album too.
In late January, he revealed he had stepped down from Testament due to scheduling conflicts and greeted the prospect of "free agency" as a welcome one while wishing his former bandmates all the best. Testament, in turn, thanked Hoglan for his years of service and stressed that the parting of ways was entirely amicable.
Catch Lombardo live with Testament on the 'Bay Strikes Back Tour' taking place in the U.S. this spring alongside Exodus and Death Angel. To see a list of upcoming dates, head here.
"Top