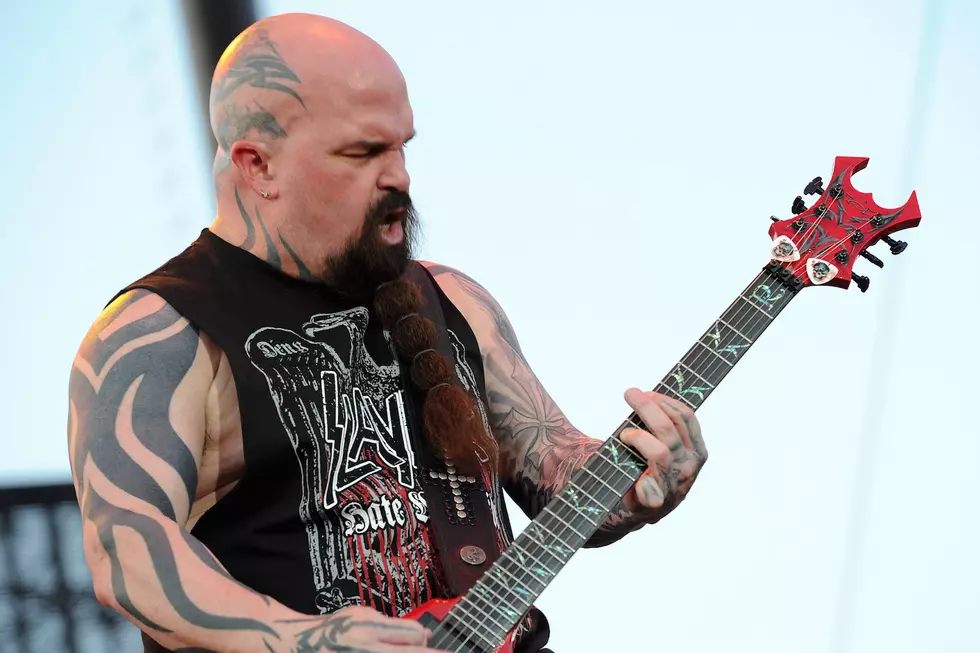 Slayer's Kerry King Was a Star Math Student in School
Kevin Winter, Getty Images
On the surface, it would appear that six is the only number Kerry King would ever need to concern himself with — and there better be three of them. Before the formation of Slayer, however, all sorts of numbers tickled the eventual legendary guitarist, as he excelled in math as a student. Well, at least until puberty enabled a manual override, per his own testimony in an interview with Metal Hammer.
"I was really good at school until I discovered girls, and then it was all over," said King in the wide-ranging discussion about his early life and career with Slayer. "It's a good thing I didn't plan on college or anything because I probably would have failed miserably," he admitted before recollecting his days as a math whiz. "I was such a smart kid, but once high school came around and girls were in the picture, the grades went south. I remember in Junior High, I got the math award for the entire school, so marks weren't a problem, but once you put the tits and the pussy in the equation, school went right out the door," he explained.
One would expect the guitarist of Slayer to be a natural rebel like so many others who have achieved massive success playing heavy metal. That wasn't the case for King though as he acknowledged, "I didn't really know what rebelling was. It's funny, because I was doing math analysis in 12th grade, and the first semester I got an A and in the second semester I got an E. I was thinking, 'Well, that's enough of that!'"
Slayer's ongoing farewell tour will carry on through 2019 and the thrash titans will return to North America for another leg, this time bringing Lamb of God, Amon Amarth and Cannibal Corpse with them. See the list of dates below and see how we ranked every Slayer song from worst to best below that.
Slayer 2019 North American Tour Dates
May 2 - Phoenix, Ariz. @ Ak-Chin Amphitheatre
May 3 - Albuquerque, N.M. @ Isleta Amphitheatre,
May 5 - El Paso, Texas @ UTEP/Don Haskins Center
May 7 - Edinburg, Texas @ Bert Ogden Arena
May 8 - Dallas, Texas @ The Pavilion at Toyota Music Factory
May 10 - Tampa, Fla. @ MidFlorida Credit Union Amphitheatre
May 11 - West Palm Beach, Fla. @ Coral Sky Amphitheatre
May 13 - Huntington, W.V. @ Big Sandy Superstore Arena
May 14 - Columbia, Md. @ Merriweather Post Pavilion
May 16 - Noblesville, Ind. @ Ruoff Home Mortgage Music Center
May 17 - Bonner Springs, Kansas @ Providence Medical Center Amphitheater
May 19 - Clarkston, Mich. @ DTE Energy Music Center
May 20 - Youngstown, Ohio @ Covel Centre
May 22 - Ottawa, Ontario @ Canadian Tire Centre
May 24 - Camden, N.J. @ BB&T Pavilion
May 25 - Mansfield, Mass. @ Xfinity Center