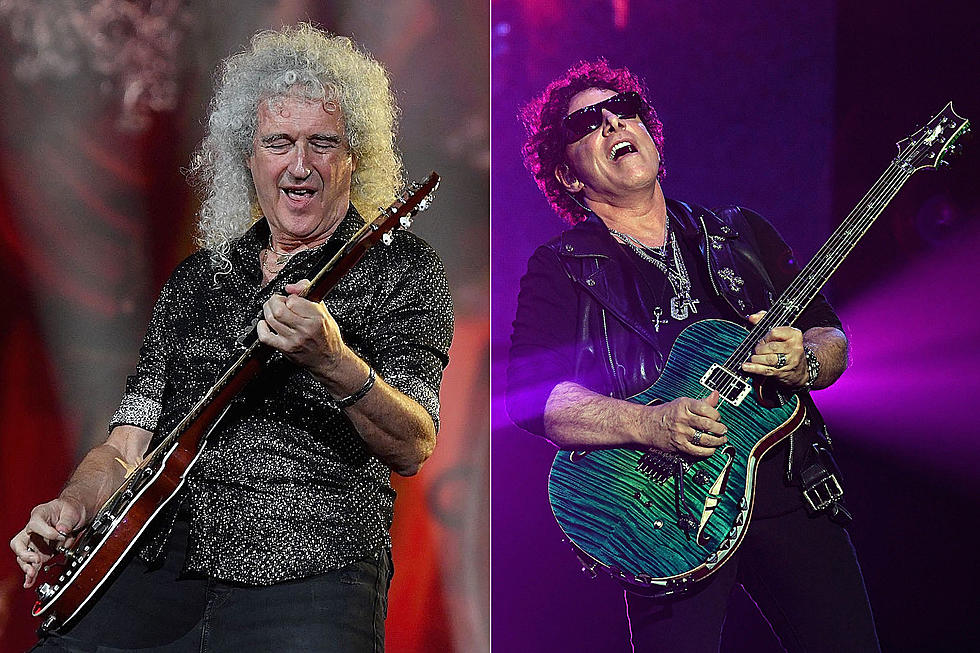 Queen + Journey Hit Songs Added to U.S. Library of Congress' National Registry
Angela Weiss, Getty Images / Ethan Miller, Getty Images
Every year, the United States' Library of Congress selects 25 "culturally, historically or aesthetically significant" recordings to add to the National Registry. Among this year's entrants are two all-time great rock songs — Queen's "Bohemian Rhapsody" and Journey's "Don't Stop Believin'."
In a remarkable display of recognition of heavy music, the Library of Congress selected the entire Master of Puppets album by Metallica back in 2016 in conjunction with the record's 30th anniversary. Nirvana's Nevermind was recognized earlier in the mid-2000s, but, in all, there's hardly any rock and metal representation in the Registry, which was created in 2000. You won't even find a single song by legendary artists such as Black Sabbath and AC/DC.
For Journey and Queen, the honor is well-deserved as both songs have served as enduring pieces of music and have penetrated pop culture repeatedly for decades.
Speaking about the inclusion of the hit 1981 single "Don't Stop Believin'," former Journey singer Steve Perry said, "That song, over the years, has become something that has a life of its own. It's about the people who've embraced it and found the lyrics to be something they can relate to and hold onto and sing."
The song was certified five times platinum by the RIAA in 2013 and it is likely that figure now stands to be higher as streaming numbers have racked up in abundance over the last decade in particular, with over one billion Spotify streams as of February of 2021.
"Bohemian Rhapsody" has enjoyed even greater success and was certified diamond (10 times platinum) last March. On Spotify, the track sits at over 1.7 billion streams and it crossed the one billion view threshold on YouTube in 2019.
View the 2022 National Recording Registry selections directly below and for a complete list of every song that has ever been added, head here.
National Recording Registry, 2022 Selections (chronological order)
"Harlem Strut" — James P. Johnson (1921)
Franklin D. Roosevelt: Complete Presidential Speeches (1933-1945)
"Walking the Floor Over You" — Ernest Tubb (1941) (single)
"On a Note of Triumph" (May 8, 1945)
"Jesus Gave Me Water" — The Soul Stirrers (1950) (single)
"Ellington at Newport" — Duke Ellington (1956) (album)
"We Insist! Max Roach's Freedom Now Suite" — Max Roach (1960) (album)
"The Christmas Song" — Nat King Cole (1961) (single)
"Tonight's the Night" — The Shirelles (1961) (album)
"Moon River" — Andy Williams (1962) (single)
"In C" — Terry Riley (1968) (album)
"It's a Small World" — The Disneyland Boys Choir (1964) (single)
"Reach Out, I'll Be There" — The Four Tops (1966) (single)
Hank Aaron's 715th Career Home Run (April 8, 1974)
"Bohemian Rhapsody" — Queen (1975) (single)
"Don't Stop Believin'" — Journey (1981) (single)
"Canciones de Mi Padre" — Linda Ronstadt (1987) (album)
"Nick of Time" — Bonnie Raitt (1989) (album)
"The Low End Theory" — A Tribe Called Quest (1991) (album)
"Enter the Wu-Tang (36 Chambers)" — Wu-Tang Clan (1993) (album)
"Buena Vista Social Club" (1997) (album)
"Livin' La Vida Loca" — Ricky Martin (1999) (single)
"Songs in A Minor" — Alicia Keys (2001) (album)
WNYC broadcasts for the day of 9/11 (Sept. 11, 2001)
"WTF with Marc Maron" (Guest: Robin Williams) (April 26, 2010)
Queen, "Bohemian Rhapsody"
Journey, "Don't Stop Believin'"
The Real Names of Over 50 Rock + Metal Icons