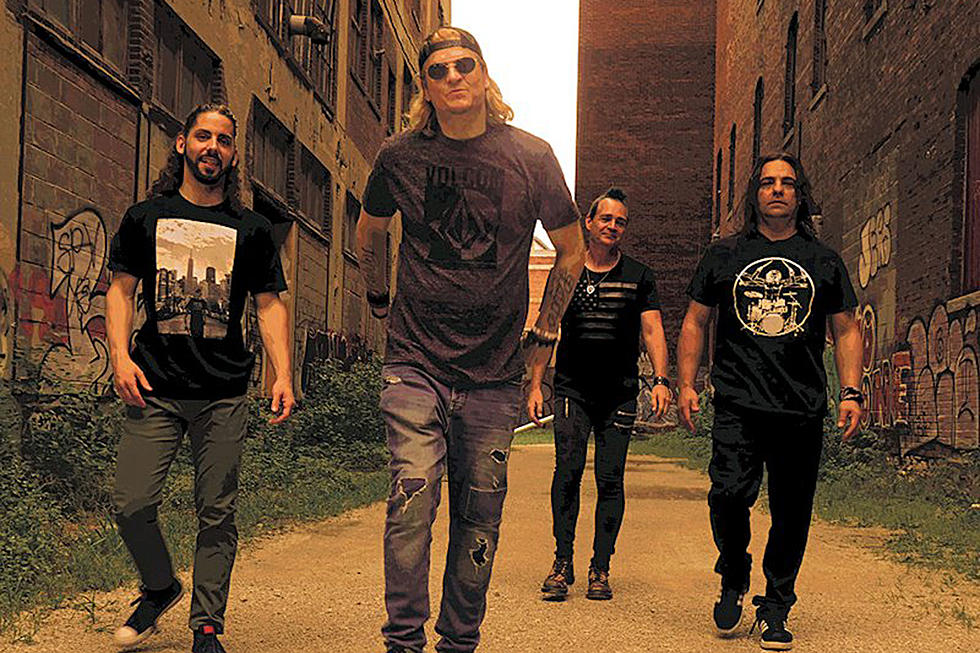 Puddle of Mudd Return With 'Uh Oh' Video – Premiere + Interview
Pavement Entertainment
Puddle of Mudd fans recently got their first taste of the band's first original album in a decade in the form of the single "Uh Oh." Now the group is teaming up with Loudwire to bring you the exclusive premiere of the video for the track.
In our chat with Wes Scantlin below, the singer reveals the song was the result of sitting with a trio of co-writers and sharing their tales of woe. "We were all laughing at our stupified stupidity and these moments in our lives," said Scantlin. "Everyone had their own little story and it kind of meshed together. Basically they were all kind of similar stories."
The Reuben Armstrong-directed video finds Scantlin caught up in relationship trouble, while bickering with neighbors and having run-ins with the police. Check out the clip below.
"Uh Oh" is the lead single off a very solidly stacked return album titled Welcome to Galvania that's due Sept. 13 via Pavement Entertainment. You can currently pre-order the CD here, and there's also a pre-order bundle option that comes with a hand-signed CD and exclusive shirt.
Puddle of Mudd have dates booked into December of this year. See the dates listed below, and get ticketing information here.
To read our interview with Scantlin about Puddle of Mudd's Welcome to Galvania album, head below the tour dates for the chat.
Puddle of Mudd 2019 Tour Dates
Aug. 24 - Montclair, Calif. @ Canyon
Aug. 27 - San Antonio, Texas @ Aztec Theatre
Aug. 28 - Beaumont, Texas @ Jefferson Theatre
Aug. 29 - Dallas, Texas @ Foundation Room / House of Blues
Aug. 31 - Katy, Texas @ Wildcatter Saloon
Sept. 06 - Pasadena, Calif. @ The Canyon at The Rose
Sept. 07 - Santa Clarita, Calif. @ Canyon Club
Sept. 13 - Oakland, Ky. @ Vette City Motorcycle Music Festival
Sept. 14 - West Lafayette, Ind. @ Tippecanoe County Amphitheatre Park
Sept. 19 - Glen Saint Mary, Fla. @ Ferg's Sports Bar and Grill
Sept. 20 - Sebastian, Fla. @ Capt. Hiram's Resort
Sept. 21 - Orange Park, Fla. @ Thrasher-Home Center
Sept. 22 - Orlando, Fla. @ Ace Cafe
Sept. 26 - Bend, Ore. @ Midtown Ballroom/Domino Room/Annex
Sept. 27 - Portland, Ore. @ Bossanova Ballroom
Sept. 28 - Everett, Wash. @ Historic Everett Theatre
Oct. 05 - Huntersville, N.C. @ Hops & Hogs Festival
Oct. 11 - Poughkeepsie, N.Y. @ The Chance Theatre
Oct. 12 - Teaneck, N.J. @ Debonair Music Hall
Oct. 13 - Colonial Beach, Va. @ Colonial Beach Bike Festival
Oct. 18 - Fresno, Calif. @ Woodward Park
Oct. 19 - Las Vegas, Nev. @ Fremont Street Experience
Oct. 20 - Norco, Calif. @ Silverlakes Sports Complex
Oct. 25 - Shawnee, Okla. @ Grand Casino Hotel & Resort
Nov. 01 - Sault Ste. Marie, Mich. @ Kwadin Casinos
Nov. 02 - West Dundee, Ill. @ RocHaus
Nov. 08 - W. Hollywood, Calif. @ Whisky-a-go-go
Nov. 09 - Grand Junction, Colo. @ Mesa Theater
Nov. 10 - Golden, Colo. @ Buffalo Rose Saloon
Dec. 07 - Charlotte, N.C. @ Fillmore Underground
We're happy to have "Uh Oh" out there to check out and a new album coming. It's the first original music in over a decade. How refreshing is it for you to be back with new music to share with the fans?
I"m super excited. I've been working this whole time and writing. I've had to change my playground and playmates, and it's time I wiped the slate clean, you know.
You mentioned changing the playground and playmates. There have been some lineup changes since the last time we chatted. Who's playing in the band now and can you talk about what they bring to the lineup?
Yeah, I've got Matt Fuller, Dave Moreno and Michael Adams and they're just really amazing guys and great musicians. The only reason that really happened was because being in a rock band gets a little tiring. Some people can't hack it, and some people just don't like to do it. I've met tons of people who could be amazing artists and stars and they see the havoc and turmoil of touring all the time and they option not to do it. A lot of people may give up, but Matt and Dave and Michael are just great guys. We totally get along and that's basically what it boils down to.
You mention the touring life, and listening to this album, you can tell that these songs will be great to play out live. How much does the live experience factor in to what you put on the record?
Yeah, it's been really accepted by the fans so far and they're really excited. They've waited long enough, believe me. I've been trying to get this out for a while. But like I said with playmates and playground, people unfortunately get some shitty people in their lives. Unfortunately it happens and people take advantage of you and fortunately by the grace of God, you persevere and get away from the lurkers and the evil people.
Speaking of which, you've spoken of how grateful you are to the fans for their patience and how glad you are to be back. How are things going for you at this point?
Everything is totally amazing in my life, and I'm healthy. I'm on the straight and narrow and keeping God first, and I'm very glad that I'm healthy.
Listening to the album, there are moments where you're talking about being down, but there is more of a light at the end of the tunnel and an upbeat outlook.
Well that's the goal in writing songs, you can take the negative and turn it into a positive. You want to be optimistic, and it's nice to have hope. It's great to help people to keep going and to fight and win the battle of life in general.
"Uh Oh" has gotten off to a solid start. It's one hell of a catchy song and a lot of fun. If you want to talk about the inspiration on it...
That was co-written with Christian Stone and Doug Ardito and a lady named Leann. We were all laughing at our stupified stupidity and moments in our lives. Everyone had their own little story and it kind of meshed together. Basically they were all kind of similar stories.
Looks like you had some fun with the video shoot, with your neighbor issues, your dog and a little woman trouble.
You know what? I've actually had that happen before where I serenaded my son's mother (laughs). I showed up at her front porch and she was having an apartment party and I showed up at the front door singing this song and I ran through the apartment into a balcony sliding screen door and I jumped off the third story of her apartment deck and rolled all the way down the hill. That's a real story.
Nah, it was kind of a downslope, so I got to have gravity on my side.
Welcome to Galvania is the name of the new album. What does that mean to you in terms of how it relates to the music on this album?
So, in music and in life you experience moments of time that give you goosebumps on your arm or makes the hairs stand up on the back of your neck. It's the galvanic skin response.
My dad kind of tests out songs that I write and if it gets his galvanic skin response going and he's like, "This is great," then it's an emotional kind of trigger in your body, an electrical response in your body that makes you feel good.
Cameron Webb worked on this with you. The sound of this album really puts me back in early 2000s Puddle of Mudd mode and the production is a big part of that. Let's talk about what he brought to the table.
Cameron is just an amazing guy. He really gets songs. He did such a great job and my hat's off to him. I really appreciate him.
Off this record, I have my favorites, but I'll let you speak to what's moving you on this album. Besides "Uh Oh," what are some of the ones that are really connecting with you and why do they stand out?
They're all like little baby children for me so I love 'em all. I think they're all special in their own way and I enjoy listening to them. I'm also sitting here with an acoustic guitar back home and I'm still trying to write more songs. I just want to keep moving on and powering through with being a songwriter.
What's inspiring you at the moment? We have a new album out, but if you're continuing to write for the future, what's moving you?
I just go with the flow and when the little songbird lands on my shoulder and I start creating something new and special, it just makes me feel so good. I just love being a songwriter and having those special moments that come when you write a really great track.
What do you have coming up on the horizon?
You know what, I'm just going to tour and be a songwriter and write as much as I can and go to the studio when I can and just do what I do. I love doing what I do. I'm really blessed to have been given this gift of music. It really does help people. It helps me out and it saved my life.
Our thanks to Puddle of Mudd's Wes Scantlin for the chat. Look for 'Welcome to Galvania' on Sept. 13 and get your pre-order in here.
100 Best Hard Rock + Metal Albums of the 21st Century