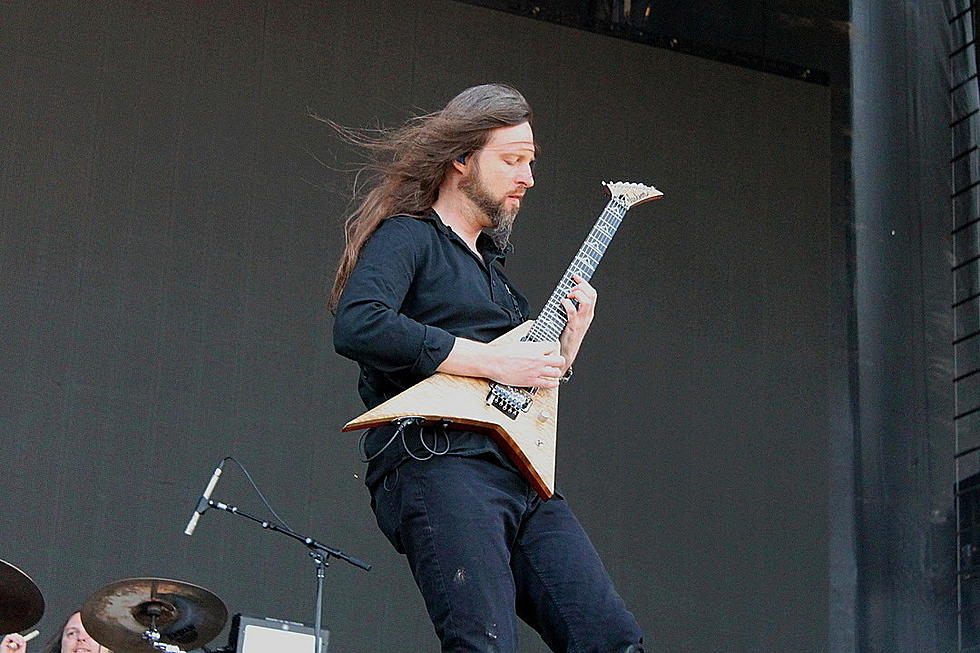 Report: Oli Herbert's Widow in Financial Dispute With All That Remains, Death Investigation Remains Open
Chad Bowar, Loudwire
According to the paper, state police revealed that the investigation remains open and is still being treated as suspicious. They have seized the computer and phone records of Herbert's widow Elizabeth, who is the sole beneficiary of her husband's will, which was signed a week prior to his death. While the investigation has slowed, the report reveals that a foreclosure case on the couple's home has been settled with Elizabeth allowed to retain the residence.
The report also revealed that Elizabeth is currently engaged in a financial dispute with All That Remains concerning Herbert's profits from the group. A three-page letter filed in probate court suggests that Herbert helped form the band and that the group has refused to turn over financial information needed for Elizabeth to file an inventory of her husband's estate with the court. The letter also suggests she is owed money from the band's European tour it embarked upon shortly after Herbert's death.
Herbert was discovered on Oct. 16, 2018 face down at the end of a pond near the couple's home. The medical examiner ruled that he drowned in water that was only a few inches deep, but the manner of death was listed as "undetermined."
In the aftermath of his death, Elizabeth Herbert had posted that she had received a toxicology report from a medical examiner, alleging that the guitarist had been self-medicating for manic depression and that anti-depressants and a sleep aid were found in his system. She also posted that the official cause of death was "drowning."
However, not soon after Elizabeth's declaration, the Hartford Courant reported that the manner of death was still being listed as "undetermined," while state police were treating the death as "suspicious."
According to the new Hartford Courant report, sources have stated that police are compiling a timeline of Herbert's last 24 hours, reviewing his medical history and searching for people who may have been in contact with him on or before the day of his passing. They have also obtained a copy of Herbert's will that was signed a week before his death and are looking into circumstances surrounding the timing of the filing.
Herbert's death came just as the group was planning to release their Victim of the New Disease album. The group already had dates booked, and Jason Richardson was called upon to help out while the band honored the shows. In February of this year, the group officially named Richardson their new guitarist.
Earlier this month, singer Phil Labonte revealed his thoughts concerning new music, revealing that Richardson has a solo album in the works and that the group will take some time off before starting in on their next release.
"We're talking about doing some more touring [in the] early part of next year, but we'll see. We talked about starting to write stuff. I talked to a couple producers that we've been throwing ideas around with. I can't announce anything yet, but I'll be getting together with some people to start writing some stuff when we go home after this tour. We'll get the whole band together probably January and start hashing stuff out seriously, but I don't see us going to actually record until at least summertime," said Labonte, who predicted a potential 2021 release.