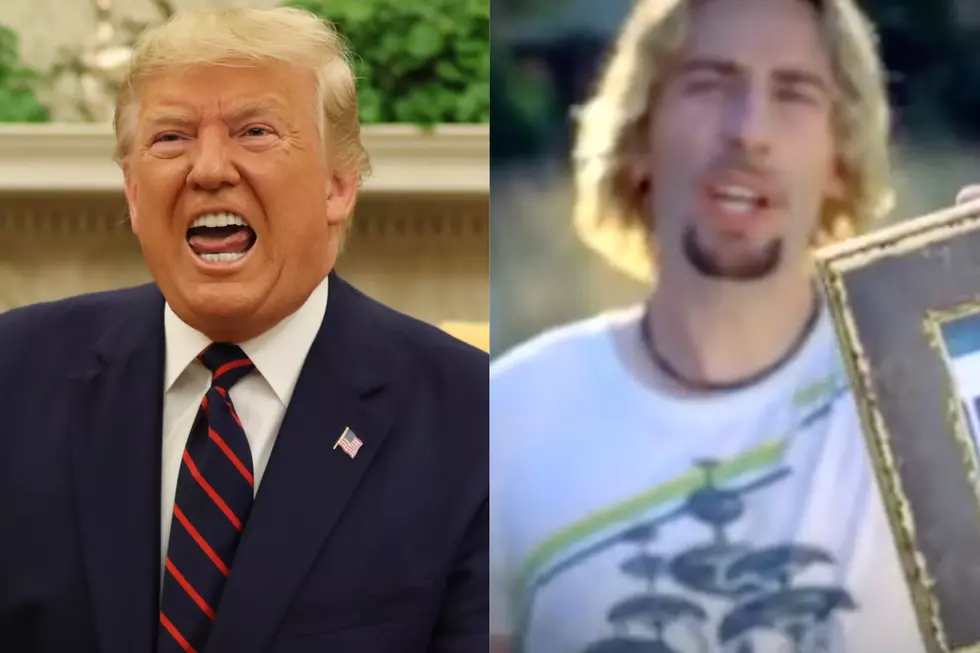 Nickelback See Surge in 'Photograph' Streams + Sales After Donald Trump Tweet
Chip Somodevilla, Getty Images / YouTube: Nickelback
After President Donald Trump employed a Twitter meme involving Nickelback's hit "Photograph" last week, the band's 2005 single saw a huge spike in streams and sales within the United States.
"LOOK AT THIS PHOTOGRAPH!" the president tweeted Oct. 2 in a bid to implicate his political rival, former Vice President Joe Biden, in illegal dealings with foreign powers. Meanwhile, Trump himself faces an impeachment inquiry hinged on his own reported abuse of power incorporating other countries' governments, as The New York Times laid out. It all hit a stupefying junction last Wednesday when Trump trotted out the classic meme that takes the likeness of Nickelback's Chad Kroeger and refashions it for one's own humorous purposes.
Perhaps Nickelback should thank the president. As tallied by Billboard, "Photograph" logged 772,000 on-demand streams (both audio and video) from Oct. 2-3, which marked a 38 percent gain from the 558,000 streams it garnered Sept. 30-Oct. 1. Those numbers include streams from digital destinations such as Spotify, Apple Music and YouTube, but don't take into account streams from videos shared directly on Twitter.
Likewise, digital download sales of the song for Oct. 2-3 surged 569 percent over the preceding two days. However, as Billboard also noted, the sales themselves (during both sets of days) were somewhat insignificant. In total for the week ending Oct. 3, the song slotted just 1,000 downloads.
And though the president's tweet itself remains, the video therein stayed up a few hours before disappearing due to copyright issues. At the time, a Twitter spokesperson told ABC News the company has taken action on "valid copyright complaints sent to us by a copyright owner or their authorized representatives."
"Photograph" hails from the Canadian rockers' fifth album All the Right Reasons, which also contains popular Nickelback track "Rockstar." But the band isn't planning on a new album any time soon.