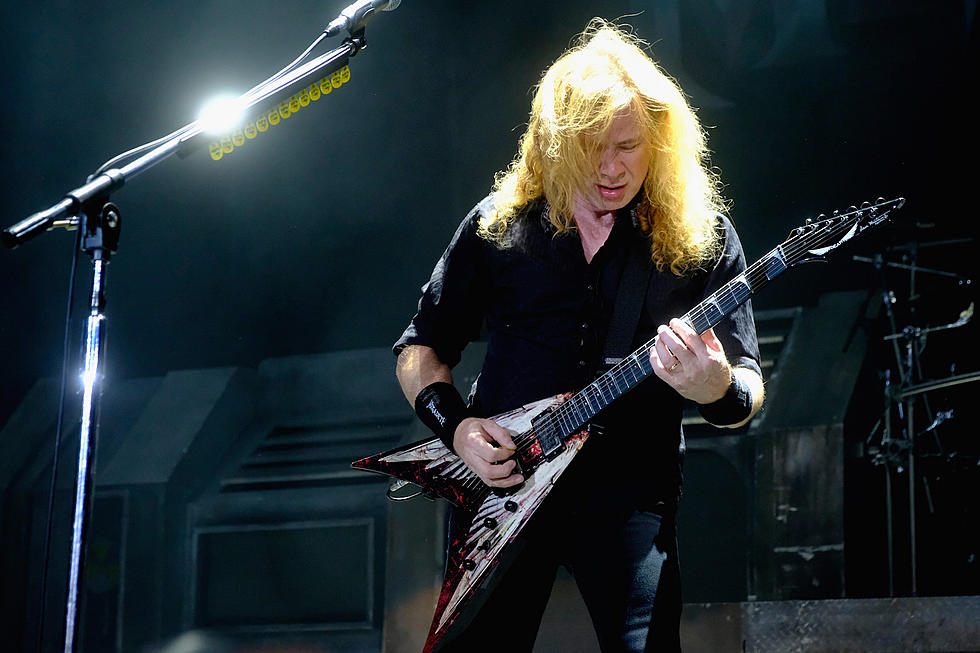 Megadeth Begin Pre-Production for New Album, Share Photos + Videos
Frazer Harrison, Getty Images
Megadeth have been in writing mode for their 16th full length album for a while now and while it had been suggested the band was targeting a 2019 release, David Ellefson recently said that probably won't happen. There's good news though as the thrash legends have officially begun pre-production for their new album.
"It begins," wrote Megadeth in a post on Twitter where they shared four photos from the wood-paneled room in a Tennessee home. The album will be the band's first since 2016's Dystopia, which picked up a 2017 Grammy award for Best Metal Performance for the title track. It was Megadeth's first and long-awaited victory at the prestigious awards show.
Ellefson also shared moments from the studio, posting a celebratory shot on Instagram alongside a clip of him and drummer Dirk Verbeuren cooking a vegan meal while listening to some death metal. The bassist posted an update on Megadeth's Facebook page as well, explaining the pre-production phase and that more updates will be coming as they progress.
See the photos and video clip below.
Verbeuren joined Megadeth in 2016, replacing Chris Adler, who played on Dystopia and stepped down from the group in order to focus on his primary band, Lamb of God. This will be his first studio effort with the band.
As for what to expect from the new album, we know there's a possibility there may be blast beats and Dave Mustaine has said he is hoping to write 12 or 13 songs and that he had eight of them already written as of mid-March. The 500 riffs he said he had written will hopefully see them through the rest of the writing process.
Where Does Dave Mustaine Rank Among the Top 66 Hard Rock + Metal Guitarists of All Time?