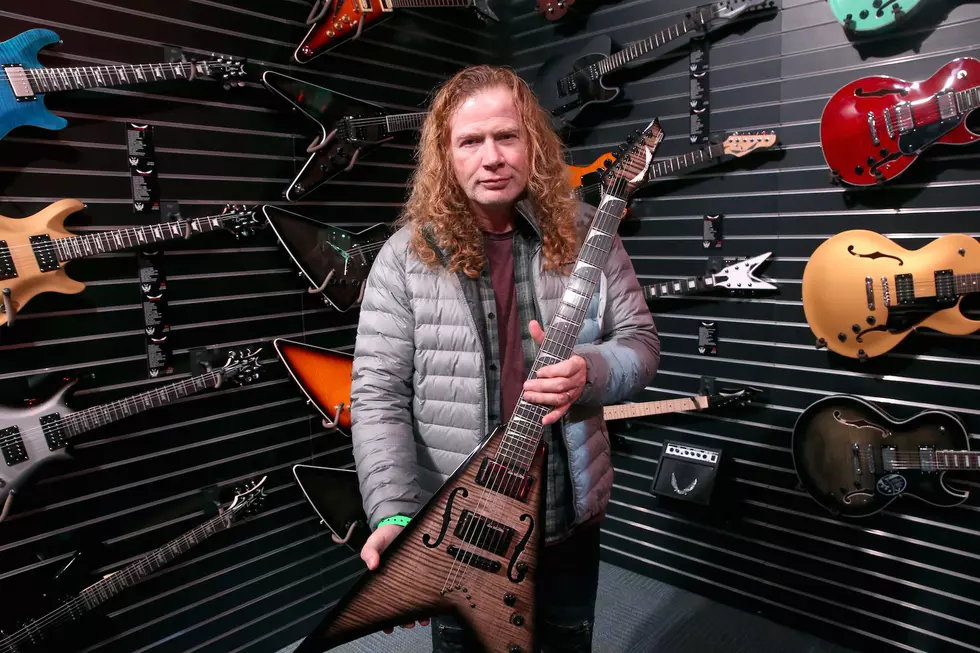 Megadeth's Dave Mustaine Uses Wah-Wah Pedal Live for First Time Ever
Jesse Grant, Getty Images
Dave Mustaine's always shied away from wah-wah pedals live. Why? Well, overuse among guitarists is one reason the Megadeth figurehead listed when revealing his intention to use a wah-wah in concert for the first time ever.
On social media Tuesday, the veteran guitarist and vocalist slightly chuckled as he sidestepped the other motivating factors previously curbing his wah use. But, tradition be damned, he decided to break one out for a Tennessee stop on the 2019 Experience Hendrix Tour.
"Tonight's gonna be the first time I'm ever gonna use a wah-wah pedal live," Mustaine said in a short clip shared to Instagram. "I've been really apprehensive of using one for obvious reasons, and people overusing them."
He continued, "I've found that this Experience Hendrix Tour has gotten me out of my comfort zone, and it's been really good for me as a player. So I'm gonna give it a try. And I don't know how it's gonna turn out. So, if you're here, you'll find out. If you're not, check back later and see."
For the unfamiliar, wah-wah is a type of electric guitar effect that variously reshapes the instrument's frequencies and tone in a way that makes it sound similar to the human voice, hence the onomatopoeia "wah-wah." It's often utilized by way of a floor effects unit, the rate of the changes to the sound being controlled via pedal by the player's foot.
With that in mind, Mustaine ended the video with a call to action for guitarists everywhere, along with a plug for the concert tour based on the legendary one whom the Megadeth frontman has previously covered in a film.
"If you're a guitar player, I just wanna encourage you to get outside your comfort zone, too," he added. "And come and check out the Experience Hendrix Tour."
See the remaining dates below. Megadeth's greatest hits collection Warheads on Foreheads drops March 22.
2019 Experience Hendrix Tour
March 14 - Raleigh, N.C. @ Duke Energy Center for the Performing Arts
March 15 - Charlotte, N.C. @ Ovens Auditorium
March 16 - Knoxville, Tenn. @ Tennessee Theatre
March 17 - Cincinnati, Ohio @ Taft Theatre
March 19 - Louisville, Ky. @ Louisville Palace
March 20 - Madison, Wis. @ Overture Center for the Arts
March 21 - Milwaukee, Wis. @ Riverside Theater
March 22 - Chicago, Ill. @ Chicago Theatre
March 23 - Detroit, Mich. @ Fox Theatre
March 24 - Charleston, W.V. @ Clay Center
March 26 - Washington, D.C. @ Warner Theatre
March 27 - Bensalem, Pa. @ Xcite Center at Parx Casino
March 28 - Westbury, N.Y. @ Theatre at Westbury
March 29 - Newark, N.J. @ New Jersey Performing Arts Center
March 30 - Niagara Falls, N.Y. @ Seneca Niagara Resort & Casino
April 1 - Syracuse, N.Y. @ Landmark Theatre for the Performing Arts
April 2 - Red Bank, N.J. @ Count Basie Center for the Arts
April 3 - Albany, N.Y. @ Palace Theatre
April 4 - Lowell, Mass. @ Lowell Memorial Auditorium
April 5 - New Bedford, Mass. @ Zeiterion Performing Arts Center
April 6 - Wallingford, Ct. @ Toyota Presents Oakdale Theatre
30 Most Underrated Hard Rock + Metal Guitarists