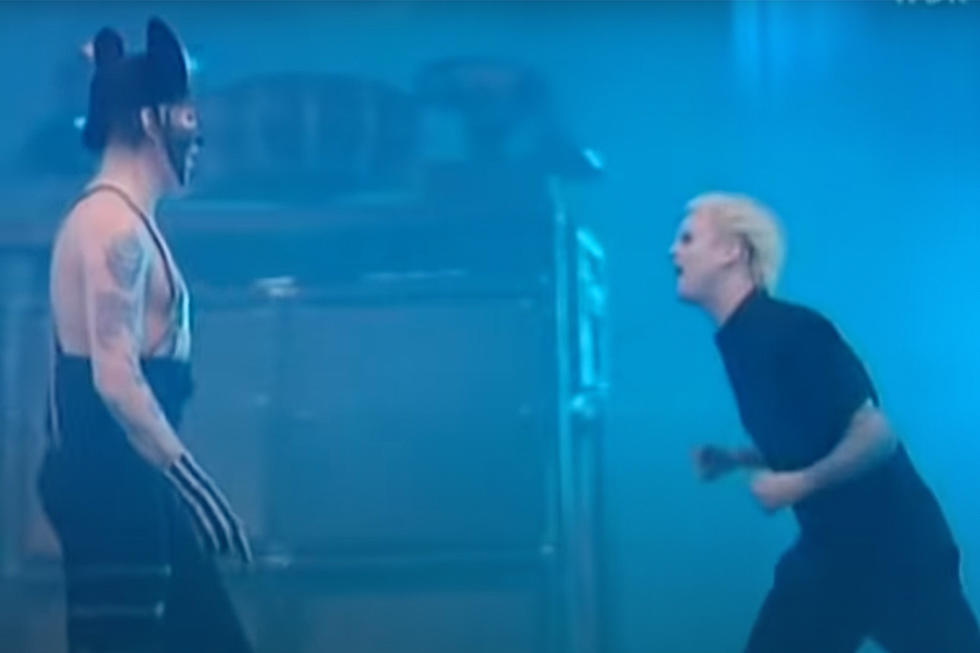 John 5 Reveals Reason for 2003 Onstage Fight With Marilyn Manson
YouTube: GARBAGE468
Though he currently plays guitar in Rob Zombie's band, John 5's credits include a period where he was a member of the Marilyn Manson lineup. During that period, the guitarist and Manson once tangled onstage briefly, with John 5 tossing his guitar to the ground and appearing ready to fight Manson while playing at the 2003 Rock Am Ring festival.
During a recent appearance on Eddie Trunk's SiriusXM show, the guitarist was asked about the incident and he offered more context as to what fans saw onstage at the start of the "Beautiful People" performance that day, which can be viewed in fan-shot video below.
Marilyn Manson and John 5 Briefly Battle Onstage at 2003 Rock Am Ring Festival
John 5 explained (as transcribed by Blabbermouth), "What happened was my sister passed away, my sister died unexpectedly. And I was shocked. I was in Europe and I was coming down the stairs, off a stage after a concert, and they told me my sister died. And I was in a state of shock; you just go into a state of shock."
"Here's the strange thing that happened to me," he continued. "I didn't sleep for days and days and days. It was the strangest thing. I just wasn't tired. And I remember going to the band members' rooms, going, 'I can't sleep. I just can't sleep. I haven't slept in now two days' or blah blah blah.
"So anyways, fast forward to the [Rock Am Ring] show. Now, what Manson did, that happened all the time. He didn't do anything wrong. I just snapped. It was weird. I went nuts. I didn't even remember. I just snapped," confesses the guitarist.
"I feel terrible watching it now because it really was my fault. You can't really hear what he's saying, obviously, but he's saying, 'Pick up your guitar.' 'Cause it looks like he's going, 'Come on. Come on.' But he's saying, 'Pick up your guitar. Pick up your guitar,' because he knew what was going on. And I feel horrible about it," recalls the guitarist. "But it was just a bad situation at that time… It was terrible because he was so nice during that time and all that stuff. I was in such a weird place, and it was just a bad time. I don't even remember it happening. It was just terrible."
John 5 would leave Manson's band a year later, but he says it was an amicable split and adds that the two musicians were "just on different roads" in terms of what they wanted for their futures.
In 2005, John 5 would form his solo band Loser, but an opportunity to play with Rob Zombie came up and his tenure with Loser was fairly short lived. He's remained a member of Zombie's band ever since, playing on every album since 2006's Educated Horses record. He has also found time to release solo albums as well. His most recent effort was 2021's Sinner album.
John 5 and the Creatures will return to the road next week, kicking off a leg of dates on April 19 in Redding, California. See all of the scheduled stops here.
Top 53 Rockers Who've Been in Multiple Successful Bands