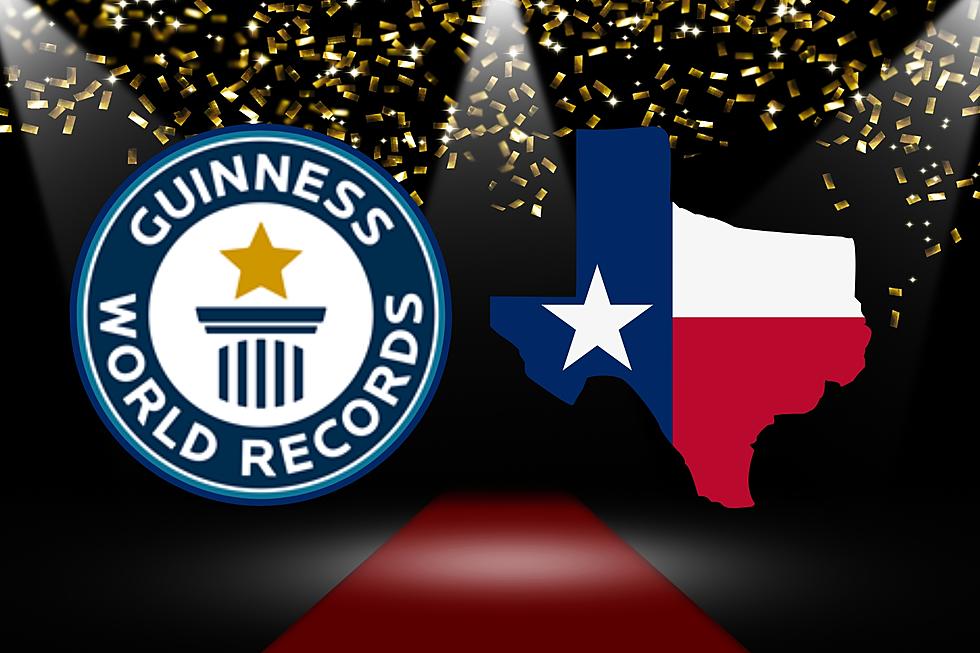 These 6 Guinness World Records Were Set Right Here In Texas
Photo: Guinness World Records/Facebook/Canva
Texas is a state all its own and it doesn't settle for the ordinary. From massive cowboy boots to enormous Frito Pies, the Lone Star State has a knack for breaking records and making history.
KXAN TV did a story on Guinness World Records made in Texas by Texans. I've always been fascinated by world records so I had to see what else Texas had up its sleeve. I wasn't disappointed. Take a peek below to see some of the Guinness World Records made right here in Texas.
LOOK: THESE 6 GUINNESS WORLD RECORDS WERE SET RIGHT HERE IN TEXAS
Biggest Two-Step Dance
Grapevine had some serious boot-scooting happening when over 2,000 folks came together for the biggest Texas Two-Step dance back in 2002.
Massive Frito Pie
During the Texas State Fair in 2012, Frito-Lay built a Frito Pie weighing in at a whopping 1,325 pounds.
Tallest Cowboy Boots
It's hard to miss the sizeable cowboy boot structure standing at San Antonio's North Star Mall.
Massive Dominoes Game
Hallettsville is home to the most people who played dominoes at the same time.
Bottomless Barbecue
The sizzle never stopped in Houston in 2014, where a team kept the barbecue going for 80 hours and 44 minutes.
Largest Parade of Pickup Trucks
Set in Arlington, this Texas parade was an event organized by Ram Trucks in 2015.
From two-stepping to massive Frito Pies, Texas captures the spirit of going big or going home. These Guinness World Records are just a few examples of the state's passion for reaching for the stars.
Speaking of records, Texas set quite a few this summer with the extreme heat. But was it the nation's hottest summer ever on record?
LOOK: Was 2023 The Hottest Summer On Record?
Temperatures soared in 2023 as brutal heat set new records across the United States this summer.