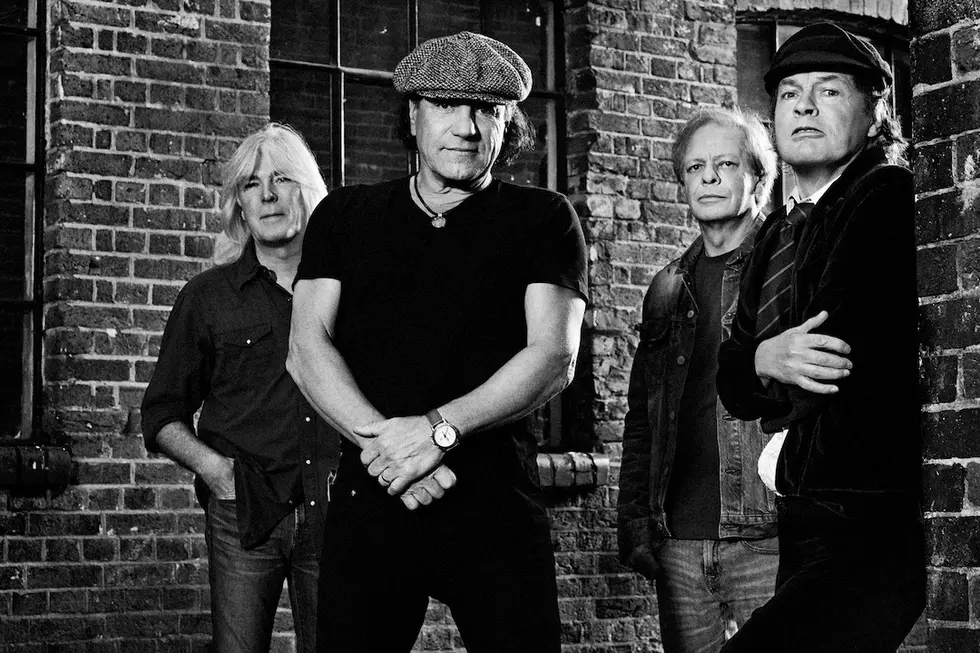 Is Cliff Williams Back With AC/DC?
Columbia
Are AC/DC getting the band back together? Over the course of the "Rock or Bust" touring cycle, we saw much of what had been AC/DC's standard lineup turn over, leaving guitarist Angus Young as the lone member of the longtime group still considered as a possibility to continue at the end of the run. But last year, estranged drummer Phil Rudd and singer Brian Johnson were spotted at the band's recording studio in Vancouver. Now there's talk that retired bassist Cliff Williams might also be involved in what AC/DC were working on last year.
The discussion of Williams' involvement comes from a social media post of Canadian personal trainer Scott Frinske, who posed for a photo with Williams and Johnson at a Vancouver hotel while the studio sessions were taking place last year.
Going into the Rock or Bust album cycle, the band had chosen family member Stevie Young to take over for the group's now late guitarist Malcolm Young. Former AC/DC drummer Chris Slade was called upon to join the group while drummer Phil Rudd dealt with legal matters and most famously Axl Rose stepped up when a severe hearing condition forced Brian Johnson off the tour. That left Williams and Angus Young as the lone longtime members of the band, and Williams announced his retirement at the end of the tour.
However, last summer rumors begin to spread about AC/DC recording a new album and both Johnson and Rudd were spotted at the Vancouver studio where the group had recorded their most recent releases. Williams being at least in the vicinity of the studio during those sessions has fans connecting the dots that the old lineup is back together to record some music. However, it should be noted that Williams was never spotted at the studio, which leaves his involvement in doubt.
"It's time for me to step out and that's all," said Williams of his decision to retire back in 2016. "It's just ... I'm just ready to get off the road, really, and do what I do." He later added, "It's just my time. I'm happy. I just need to ... Family time now, just chill out and not do this."
Just last week, radio personality Eddie Trunk shared his knowledge of the current AC/DC situation with a listener on his Sirius/XM Volume show, stating that a "very well-placed, reliable source" had told him that the record is done, and that the speculation that the group had used some of Malcolm Young's riffs in their new work as a tribute was true. "Malcolm had a bunch of stuff recorded that they worked off of and sort of incorporated into the record," stated Trunk.
No official announcement on a new album, or who exactly is involved, has been made.
2019's Most Anticipated Hard Rock + Metal Albums