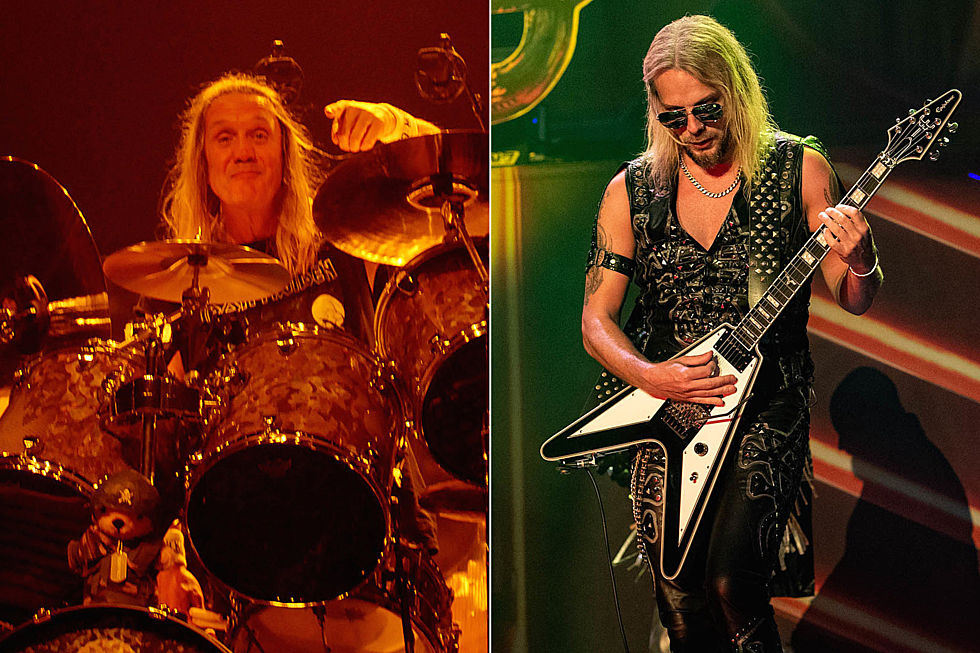 Iron Maiden + Judas Priest Members Play With Tributes to Their Own Bands
Annamaria DiSanto, WireImage/Getty Images / Maria Ives, Loudwire
One of the pitfalls of being in Iron Maiden, if there has to be one, is the fact that you can never watch Iron Maiden. On a day off on the "Legacy of the Beast" tour, the members of Iron Maiden flipped the script and watched Iron Tribe with McBrain getting behind the kit to play "Run to the Hills" and "Flight of Icarus."
Iron Tribe had this to say about the momentous night:
IRON MAIDEN CAME TO OUR SHOW! We had an epic night playing the "Night Before Maiden" show at Hard Rock Cafe Nashville on Aug 18, 2019. Special guests in attendance included Steve Harris of Iron Maiden, Nicko McBrain of Iron Maiden, Adrian Smith of Iron Maiden and Richie Faulkner from Judas Priest. AND Nicko McBrain got up and played some songs with Iron Tribe! What an epic night. We are honored that Iron Maiden came to our show beyond words. Steve Harris stayed for our entire show. Thank you to everybody who came out. We exceeded capacity at the Hard Rock with 390 people in attendance. I hope all of you that were waiting to get in got to come in eventually. We love you all and you all ROCK! You shared our greatest night as a band with us.
Watch footage of Nicko's guest spot below.
Iron Tribe, "Run to the Hills" + "Flight of Icarus" With Nicko McBrain
The tribute package was one metalheads would love to see fully realized and even Priest's Ian Hill recently said Maiden and Priest "must" get together for a tour. Fans got a taste as Richie Faulkner got up onstage with Sad Wings of Destiny, performing a trio of classics from the metal legends: "Breaking the Law," "Hell Bent for Leather" and "Metal Gods."
Watch "Metal Gods" below.
Sad Wings of Destiny, "Metal Gods" With Richie Faulkner
See Iron Maiden + Judas Priest in the Best Metal Album of Each Year Since 1970