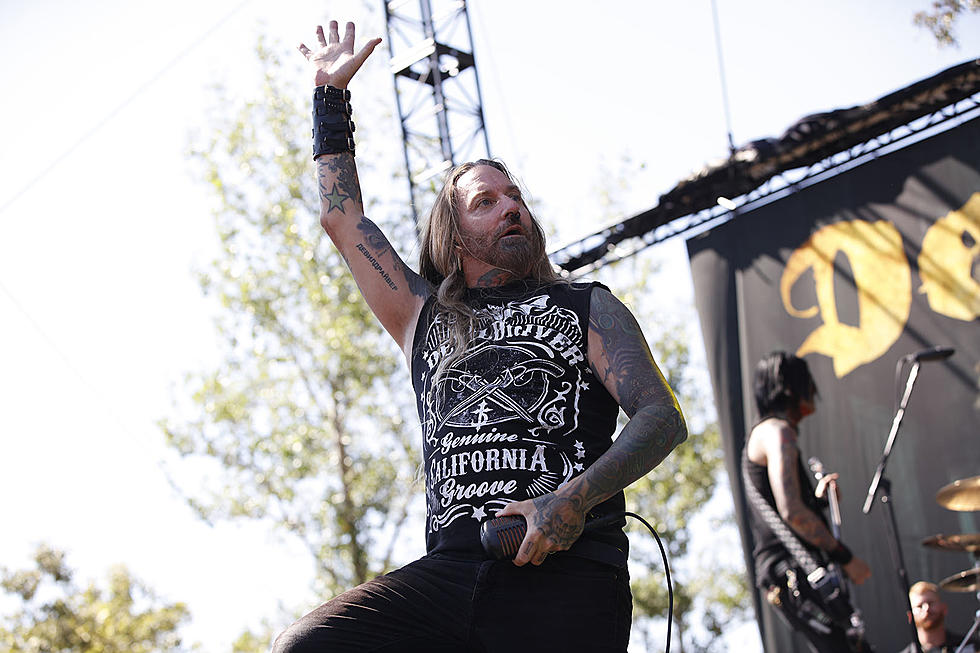 DevilDriver to Embark on Summer U.S. Tour With 36 Crazyfists + More
Alex Kluft, Loudwire
DevilDriver are true road warriors are they're ready to rev the tour bus engine back up once again as they continue their support behind 2016's Trust No One. This time, they'll be sharing the stage with supporting acts 36 Crazyfists, Cane Hill, Uncured and Tetrarch, making for one punishing summer lineup.
The California-based outfit will journey from their hometown of Santa Barbara upward to San Jose to kick off the first night of the trek on Aug. 18. The first four dates will not feature Cane Hill, who will hop onboard on Aug. 23 in Colorado. From there, the tour will pummel the heartland, extending as far east as Virginia. Unfortunately for fans in the Northeast, this tour won't be venturing up there.
36 Crazyfists are among the most experienced bands on this bill, touting their seventh studio album, 2015's Time and Trauma. Cane Hill, Uncured and Tetrarch will all be out promoting material from their debut records, Smile, Medusa and Freak, respectively.
DevilDriver 2017 U.S. Tour Dates With 36 Crazyfists, Cane Hill, Uncured + Tetrarch
Aug. 18 — San Jose, Calif. @ The Ritz #
Aug. 19 — Portland, Ore. @ Hawthorne Theater #
Aug. 20 — Spokane, Wash. @ The Pin #
Aug. 21 — Billings, Mont. @ Pub Station #
Aug. 23 — Colorado Springs, Colo. @ The Black Sheep
Aug. 24 — Lincoln, Neb. @ Bourbon Theatre
Aug. 25 — Belvidere, Ill. @ Apollo Theatre
Aug. 26 — Battle Creek, Mich. @ Leila Arboretum* (Michigan Metal Festival)
Aug. 27 — La Crosse, Wis. @ Cavalier Lounge
Aug. 28 — Minneapolis, Minn. @ Cabooze
Aug. 29 — Sioux Falls, S.D. @ Bigs Bar
Aug. 30 — Des Moines, Iowa @ Val Air Ballroom
Aug. 31 — Wichita, Kan. @ Crown Uptown
Sept. 01 — Kansas City, Mo. @ The Riot Room
Sept. 02 — Sauget, Ill. @ Pop's
Sept. 05 — Fayetteville, Ark. @ George's Majestic Lounge
Sept. 07 — Louisville, Ky. @ Trixie's Entertainment Complex
Sept. 08 — Dayton, Ohio @ Oddbodys
Sept. 09 — Clarksville, Tenn. @ The Warehouse - TN
Sept. 13 — Knoxville, Tenn. @ The Concourse (at The International)
Sept. 14 — Virginia Beach, Va. @ Shaka's
Sept. 15 — Jacksonville, N.C. @ Hooligan's Music Hall
Sept. 20 — Houston, Texas @ Scout Bar
Sept. 21 — Dallas, Texas @ Gas Monkey Live
Sept. 22 — Lubbock, Texas @ Jake's Backroom
* festival date - No Cane Hill or Tetrarch
# no Cane Hill
Best Metal Albums of 2017 (So Far)
DevilDriver's Dez Fafara Talks Early Influences