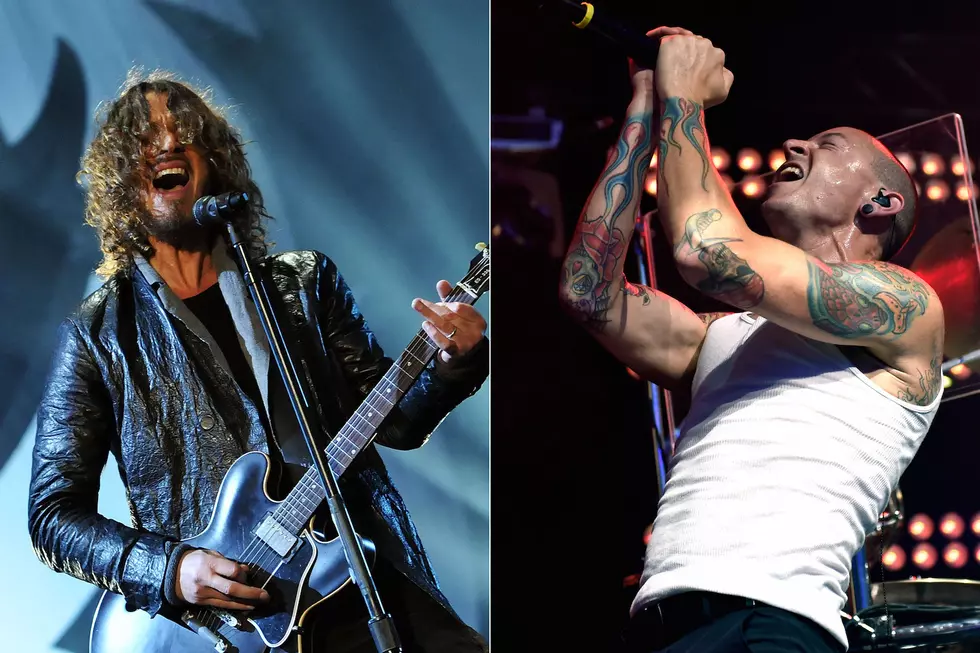 Chris Cornell, Chester Bennington Remembered by Bandmates + Family
Jim Dyson / Kevin Winter, Getty Images
July 20 is a doubly sad day for many rock fans, as it marks the anniversary of Linkin Park singer Chester Bennington's death as well as the birthday of Bennington's late friend and musical peer, Chris Cornell. Both musicians died of suicide months apart in 2017, and on Saturday members of their bands and families marked the significant date with messages of love.
Bennington, who died at the age of 41 on July 20, 2017, was saluted by his former bandmates with a photo from a press shoot for their last album, One More Light. They offered the post as a forum for fans to post their tributes, "Remembering Chester today. Feel free to share your favorite moment of Chester / LP in the comments below."
The singer's mother, Susan Eubanks, posted a photo of the last kiss she received from her son. "The last kiss I ever got from my wonderful boy! There are no words to explain how much I miss him! I want us to all celebrate his life today! Love you all! Please take care and celebrate Chester's life today! He would want us to celebrate," she wrote.
Meanwhile, Bennington's wife Talinda offered, "I woke up and this was on my heart... take care of each other today. Enjoy every moment of it." #makechesterproud #320changesdirection
The day was also a sad reminder of Chris Cornell's birthday, with the singer's Audioslave bandmate Tom Morello sharing a story of remembrance with his son. "My kids recently discovered Audioslave and while rocking out hard to 'Cochise' my oldest stopped and said, 'Dad, it's really sad that Chris Cornell is dead.' I replied, 'That is very true, but let's keep rocking out.' And we did," said Morello, adding. "Happy Birthday, Chris."
Cornell's wife Vicky offered a two-part Instagram posting, first showing a black and white photo of Cornell with his children and the caption "Forever missed, forever loved," with the hashtags #noonesingslikeyouanymore and #youshouldbehere.
The second part of the Instagram posting was an email message the vocalist had sent to his wife, which read: "Oh good! You know I only care about my family. You and my babies. It's hard for me to go to sleep and wake up without you. When it's bumpy and I think about the plane crashing, all I can think about is you three and nothing that separates us seems worth it. Come to me!"
Cornell died on May 18, 2017 at the age of 52. He would have been 55.
Elsewhere, Halestorm's Lzzy Hale, who delivered an emotional and powerful speech at the 2017 Loudwire Music Awards while accepting Bennington's Best Vocalist trophy, commented as well, stating, "On this, the anniversary of Chester Bennington's death and the birthday of the late Chris Cornell...we must all dive deep into their work, listen to their words and make sure that their legacy lives on. Rest easy boys. #raiseyourhorns #chriscornell #chesterbennington