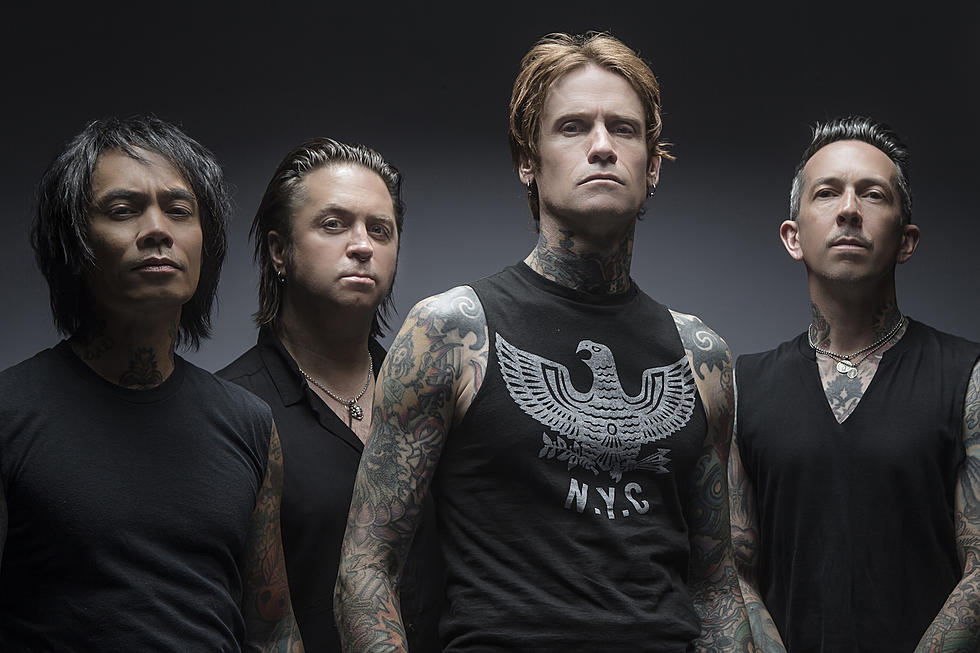 Buckcherry Release Fiery New Song 'Bent'
Jeremy Saffer
Late last year, Buckcherry previewed a bit of their 2019 plans, revealing their next album, Warpaint, would be released on March 8. With it came a video for the cover of Nine Inch Nails' Pretty Hate Machine anthem "Head Like a Hole" and now they've teamed with Loudwire to bring you the first new dose of original material with the new song "Bent," heard below.
It's a sing-along anthem, riding an aura of fun and punky riffing with snarling attitude, the perfect way to let fans know what to expect with a new record.
"'Bent' is one of those songs that is filled with PASSION and you are engaged as a listener from the get go," says frontman Josh Todd, explaining, "When I wrote the lyrics to 'Bent' I felt like my back was against the wall with so many forces in my life pushing me to dig deeper than I ever had and get out of my comfort zone. This is exactly what the Warpaint record is about and it's a great from beginning to end."
"The Warpaint record is very special. It's the first Buckcherry record in over three years and a lot of change has taken place in those three years. Historically whenever this happens with Buckcherry we always make our best records," the singer adds.
Buckcherry's North American tour starts on March 6 and will run through May 5. See the complete list of stops below and head here to get your tickets.
Buckcherry 2019 North American Tour Dates
Mar 06 - Sacramento, Calif. @ Ace of Spades
Mar 08 - Vancouver, British Columbia @ Hard Rock Casino
Mar 10 - Edmonton, Alberta @ Century Casino
Mar 11 - Calgary, Alberta @ Palace Theatre
Mar 13 - Winnipeg, Minn. @ Burton Cummings Theater
Mar 15 - La Crosse, Wis. @ Brickhouse
Mar 16 - Effingham, Ill. @ Effingham Performance Center
Mar 17 - Chesterfield, Mich. @ Diesel
Mar 19 - Grand Rapids, Mich. @ The Intersection
Mar 20 - Dayton, Ohio @ Oddbodies
Mar 22 - Palatine, Ill. @ Dirty Nellies
Mar 23 - Lexington, Ky. @ Manchester Music Hall
Mar 24 - Pittsburgh, Penn. @ Jergel's
Mar 26 - Foxboro, Mass. @ Toby Keith's
Mar 28 - Jim Thorpe, Penn. @ Penns Peak
Mar 29 - New York, N.Y. @ Irving Plaza
Mar 30 - Hampton Beach, N.H. @ Wally's
Mar 31 - Poughkeepsie, N.Y. @ The Chance
April 02 - Newport News, Va. @ Boathouse
April 04 - Scottsdale, Ariz. @ Arizona Bike Week - Westworld of Scottsdale
April 07 - Jacksonville, N.C. @ Tarheel
April 09 - Atlanta, Ga. @ The Loft
April 11 - Greenville, S.C. @ Firmament
April 12 - Knoxville, Tenn. @ Cotton Eyed Joe
April 13 - Tampa, Fla. @ Fergs Live
April 14 - Jacksonville, Fla. @ Surfer Bar
April 16 - Pensacola. Fla. @ Vinyl
April 17 - Ft Lauderdale, Fla. @ Culture Room
April 19 - Memphis, Tenn. @ Graceland Soundstage
April 20 - Houston, Texas @ Warehouse Live
April 22 - St. Louis, Ill. @ Pops
April 23 - Springfield, Mo. @ The Complex
April 24 - Angola, Ind. @ The Eclectic Room
April 26 - Ft. Smith, Ariz. @ Temple Live
April 28 - Colony, Texas @ Lava Cantina
April 30 - Colorado Springs, Colo. @ Studio
May 01 - Denver, Colo. @ Harry's Hideaway
May 03 - Salt Lake City, Utah @ The Royal Bar
May 04 - Las Vegas, Nev. @ Brooklyn Bowl
May 05 - Montclair, Calif. @ Canyon Club
2019's Most Anticipated Hard Rock + Metal Albums